Police end sit-down Tamil protest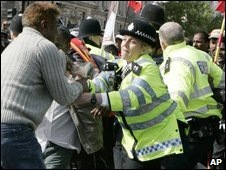 Ten people have been arrested in London for public order offences as police ended a Tamil supporter protest which had blocked roads around Parliament.
Initially about 2,000 people had gathered for a sit-down protest over the plight of Tamils in Sri Lanka on a road opposite the Houses of Parliament.
The Metropolitan Police said officers had cleared the roads around Parliament Square at about 0015 BST.
Ambulance crews said three police and five protesters were taken to hospital.
Demonstrations trying to draw attention to the plight of Tamils in Sri Lanka have been taking place in Parliament Square since April.
Between 50 and 100 protesters are now back behind barriers on Parliament Square itself and no longer causing a traffic hazard, a Met police spokesman added.
He also said that 21 police officers had been treated for minor injuries, with two requiring hospital treatment, but they were not believed to be seriously hurt.
However, London Ambulance Service said it had treated two police officers at the scene and three had gone to hospital.
Six protesters were treated at the scene, it said.
The protest came as military leaders in Sri Lanka said that they had crushed the rebel Tamil Tigers' 26-year insurgency aimed at securing a separate state in the north and east of the country.
The military also said the leader of the Tamil Tigers, Velupillai Prabhakaran, had been killed.
'Deeply concerned'
At the height of Monday's protest, police helicopters circled above Parliament Square and there was a large presence on the ground as traffic in the area was diverted.
Many of those involved in the demonstration wore a white cloth around their heads and arms as a sign of solidarity.
Student Kulan Selvan, 32, from Catford, London, said: "There is a strong feeling of real anger here.
"For us the war is not over and we simply do not believe reports that the Tamil leader has been killed.
"We are deeply concerned for the people in our homeland. We believe thousands have been killed.
"The Sri Lankan government have refused to let the media in so we just don't know how bad it really is there."
He urged the media to give more prominent coverage to the conflicts in Sri Lanka.
(For updates you can share with your friends, follow TNN on Facebook, Twitter and Google+)