The resurrection of Prabakaran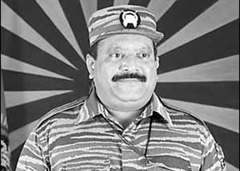 Already thrice, Prabakaran has been reported dead. For the fourth time, the Srilanka govt says he is dead, but his supporters believe that "Prabakaran will appear again before the people."
The Tigers have pointed out differences between the real Prabakaran and the one that is said to be Prabakaran's body and we are assailed by doubts ourselves. Here are the following doubts.
(i) Prabakaran seems to look younger now than the picture released by the Srilanka govt in 2004? (In the photo, Prabakaran seems to look below 40 years of age!)
(ii) The wrinkles seen earlier, seem to have disappeared?
(iii) The eyes are different. At the height of war, would Prabakaran have had time to clean shave himself? When he is fleeing, would he be carrying his id card? This id card seems to be brand new.
(iv) The army says, Prabakaran was shot dead when escaping in an ambulance, but in contradiction, they announced that his body was found yesterday noon in Mullaitheevu's Nandikadal area.
(v) The top half of the head is covered.
(vi) Prabakaran has a cleft in his chin, but the body in the video does not have this.
(vii) Prabakaran has thick hands. The photo does not reflect that.
(viii) That apart, the leader has certain distinguishing marks. Tigers have their distinguishing marks, but these are missing. (We cannot reveal these things)
(ix) Despite his dead body having been in water for several hours, it shows no signs of bloating. Forensic experts say the head cannot be shaken like a doll, as is being shown now.
(x) A similar face has been reconstructed with plastic surgery and to cover it, the body is clad in uniform with a scarf on the head and the body is shown partially.
The above are some of the doubts raised by supporters of the LTTE.
"He will appear before the people."
Prabakaran was reported dead in 1988-89 and remained out of sight till 1990 after which he suddenly appeared. This is what is happening now too. He is reported dead and let it stay that way, but at the appropriate time, he will appear again before the people. This is what his supporters believe.
(For updates you can share with your friends, follow TNN on Facebook, Twitter and Google+)