Clinton calls Rajapaksa, presses for political solution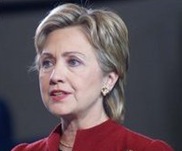 US Secretary of State Hillary Clinton today pressed the need for political reconciliation in Sri Lanka after the end of the three decade long civil war in that country.
Clinton made a telephone call to President Mahinda Rajapaksa, days after Sri Lanka announced the defeat of the LTTE and the killing of its leader Vellupillai Prabhakaran.
During her conversation, the Secretary of State called for political reconciliation in the country marred by decades of ethnic conflict.
Rajapaksa has maintained that the end of the military operation against the LTTE will be followed by a political solution to the conflict, which will include a law for devolving powers to Tamil-dominated areas.
Hillary expressed concern over the humanitarian situation in the northern parts of the country, where the total number of people displaced due the conflict has reached 280,000 in last several months.
She asked Rajapaksa to allow international humanitarian agencies access to the areas where refugees are camped.
(For updates you can share with your friends, follow TNN on Facebook, Twitter and Google+)