Woman mourns Sri Lanka relatives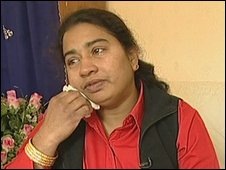 A Sussex woman says she has lost most members of her immediate family in the conflict in Sri Lanka.
Naguleswary Baskaran, of Crawley, heard by phone that her mother, two sisters, and nephews and nieces had died.
She said her brother and his wife were still missing and some of the children were in hospital.
"I want to help them. I want to know how I can save them, but it's not safe for me to go to my country. What can I do?" she told the BBC.
"When one person dies, it's hard to say how you feel. But our whole family has been wiped out. It's terrible I can't tell you how I feel."
The hospital catering assistant said her relatives were all innocent people and her family had been "wiped out".
Ms Baskaran, a Tamil who left Sri Lanka in 2000, said: "I pray everyday that one of them is still alive. I long to see them again."
Sri Lanka officially announced an end to the war with the Tamil Tigers this week, after its troops took the last segment of land held by the rebels.
The government has said that more than 6,200 security personnel were killed and almost 30,000 wounded in the final three years of the conflict.
'Essential aid'
It is thought at least 80,000 people have been killed in the entire 26-year war.
UN Secretary General Ban Ki-moon was travelling to Sri Lanka on Friday to discuss the plight of about 275,000 internally displaced people.
Michelle Brown, emergency adviser for Save the Children, said the biggest issue for charities was getting access to Sri Lankan camps.
She said: "People have fled. They've fled with just their clothes on their backs.
"They're stressed, they're traumatised, they haven't eaten, they're malnourished and dehydrated.
"So arriving in camps which are totally overcrowded, there are outbreaks of chicken pox, hepatitis, dysentery.
http://news.bbc.co.uk/1/hi/england/8064406.stm
(For updates you can share with your friends, follow TNN on Facebook, Twitter and Google+)