U.N.'s Ban visits Sri Lankan displaced persons camp News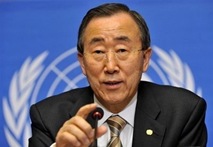 U.N. Secretary-General Ban Ki-moon toured Sri Lanka's largest war displaced persons camp on Saturday during a trip to press for wider humanitarian access and political reconciliation.
In the highest-level international visit to Sri Lanka since the government declared victory on Monday over the Tamil Tiger rebels in a 25-year war, Ban was also due to fly over the final battleground and meet President Mahinda Rajapaksa.
Ban said he would encourage open political discussions between the majority Sinhalese and minorities including Tamils when he met Rajapaksa later on Saturday in Kandy, the historic seat of Sinhalese kings and a Buddhist holy site.
"I hope that President Rajapaksa and government leaders will reach out with inclusive dialogue with the minority groups," Ban told reporters.
Rajapaksa has already pledged to strike a political deal with Tamils, and said he does not want Sri Lankans viewing the victory over the Liberation Tigers of Tamil Eelam (LTTE) as a defeat of the Tamil minority.
The United Nations wants full access to camps housing 290,000 people who escaped LTTE-controlled areas as a military onslaught bore down on the separatists who had fought to create a separate nation for Sri Lankan Tamils.
"I have been discussing with President Rajapaksa how to ensure humanitarian assistance (and) how to protect the civilian population," Ban told reporters.
U.N. aid agencies have complained about a lack of full access to the refugees and said the government has hampered the delivery of aid by banning use of motor vehicles by U.N. officials or aid workers from other organisations.
Sri Lanka has said it needs time to weed out potential Tamil Tiger infiltrators hiding in the camps, and is wary of aid agencies it has complained helped the Tigers in the past. It plans to resettle most of the refugees within six months.
Ban and other U.N. officials repeatedly criticised the government and Tamil Tigers during the final months of the war, saying the actions of both had resulted in unnecessary deaths of thousands of Sri Lankans trapped in the conflict zone.
Unofficial and unverified U.N. tallies say more than 7,000 civilians were killed and thousands more wounded in the war's waning weeks. That has prompted Western calls for a probe into potential war crimes and humanitarian law violations.
Rajapaksa in a Friday speech dismissed the calls as an attempt to stop the final offensive, and said he was "not afraid of walking up to any gallows, having defeated the world's worst terrorists."
A senior U.N. official travelling with Ban said the secretary-general was aware the trip could be seen as an endorsement of the victory, but that was not his intention.
The senior official stopped short of endorsing an investigation but said accountability for any violations would be important. The Geneva-based U.N. Human Rights Council would be meeting this week on Sri Lanka and may want to launch a probe.
"This victory was won at a very high price," said the official, adding there would be a certain amount of lingering bitterness as a result.
(For updates you can share with your friends, follow TNN on Facebook, Twitter and Google+)