200,000 Tamil civilians imprisoned in Sri Lankan Manik Farm camp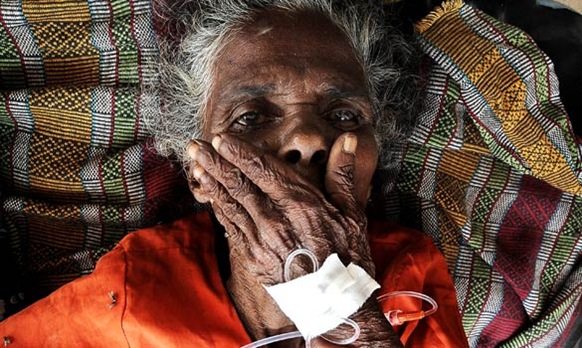 "We are in an open jail," Kumar whispers, his skinny shoulders shaking as he looks around to check who is watching "Help us, we want to be free."
He is one of about 200,000 Tamil civilians being held against their will behind the razor-wire coils that surround Manik Farm, the largest displacement camp in Sri Lanka — one of the largest in the world.
Camp is not the word its inmates use for it. A prison and a concentration camp were two of the descriptions The Times heard on a rare visit to the camp on the sidelines of the visit by Ban Ki Moon, the United Nations Secretary-General.
Squalor is less the defining feature of Manik Farm than militarism. The presence of armed soldiers around the camp and its perimeter is overwhelming. New armoured patrol vehicles sit at the entrance to the side of a sandbagged bunker.
The entire camp is surrounded by seven-foot-high wooden posts, strung with barbed wire and wreathed with coils of razor wire.
Mechanical diggers have carved out a deep surrounding trench. "These people are not allowed to leave," Gerson Brandao, a UN humanitarian co-ordinator said. "Civilians shouldn't be behind barbed wire."
Father Amalraj, a Catholic priest, was shocked by what he found on his arrival with his parishioners on a military bus last Monday.
"I read in a book on the Second World War about concentration camps," he says. "I feel we are experiencing that now. The concentration camps of the Second World War are here in Sri Lanka."
At Manik Farm, the boys — and some girls — of fighting age were separated for screening and have not been seen since. Many are under age and were never willing combatants — the Tigers were notorious for abducting children to fight and carry arms.
Father Amalraj's parishioners clamour to tell of their missing offspring.
"When the children came out, the Government told them that, if they told the truth, they would be safe," said Mahalam, whose 17-year-old daughter, Sathal, was taken from her seven days ago and has not been seen since.
The Government says it has taken suspected fighters for "rehabilitation" in special security camps and has refused to allow aid agencies access until the process — begun three weeks ago — is completed.
Mr Ban, who came to Sri Lanka to urge for that access, left without it. United Nations officials admit that they can barely keep up with the Sri Lankan zest for chopping down jungle and throwing up barbed-wire enclosures to house the Tamil civilians, let alone take control of it.
The lack of outside aid unnerves the inmates. "There is no people like you here," Kumar whispers, hiding behind the crowds lined up for Mr Ban's visit. "There is not enough food. There is not enough hospital here."
How long does he think he will he be here for? "I don't know. Maybe forever? We are afraid we will be killed. If I tell the truth, I will be killed."
(For updates you can share with your friends, follow TNN on Facebook, Twitter and Google+)