Ban Ki Moon stresses freedom of movement, resettlement of IDPs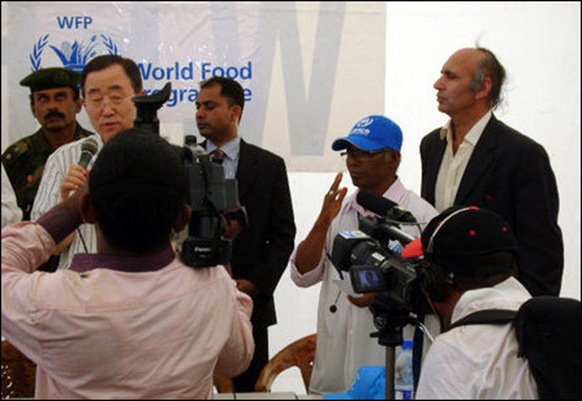 United Nation Secretary General, Ban Ki Moon, while visiting the largest internment camp in Vavuniyaa, Manik Farm, Saturday for three hours from 9:15 a.m., stressed the need for freedom of movement and immediate resettlement of the more than 300,000 Tamils held in camps. The IDPs also told Ban Ki Moon that they would want the U.N. to take full responsibility for the welfare of the refugees, sources accompanying Moon on his visit said. "The UN has failed in several measures in preventing egregious human rights violations by Sri Lanka against unarmed civilian Tamils during the last several months, and this is the last opportunity to take bold action to repair the damage to UN's reputation. UN should shed its rhetoric on sovereignty and assume full responsibility for the Tamil people," an aid worker told TamilNet after Moon's visit.
The Secretary General was taken to Manik Farm after he arrived by helicopter in Vavuniyaa at Joint Operations camp of the Sri Lankan forces Saturday morning.
The Secretary General, in addition to stressing the freedom movement and the urgency for resettlement, also noted the lack of basic facilities and urged immediate action to improve the conditions inside the internment camps.
The Tamil refugees told the Secretary General that they look to the United Nations to ensure their welfare, and their primary need is to go back to their homes in their own villages.
Reporters who accompanied the Secretary General unexpectedly received some space to talk to the refugees without any attending Government officials, sources said.
The IDPs complained to the reporters that Sri Lanka military, during its harsh filtering process, has separated many children from the parents.
They also complained of that routinely a selected set of refugee personalities coached by the Sri Lanka military engage with the visitors to the camp, pointing to a former Voice of Tigers (VoT) employee, and said they were happy to have had the opportunity to talk to the reporters this time.
Mr. Ban Ki-moom was accompanied by UN Under-Secretary-General for Humanitarian Affairs and Emergency Relief Coordination John Holmes, Chief of Staff Vijay Nambiar, UNDP Resident Coordinator Neil Buhne, UNICEF country representative Philippe Duamelle and UNHRC Country Director Amin Awad.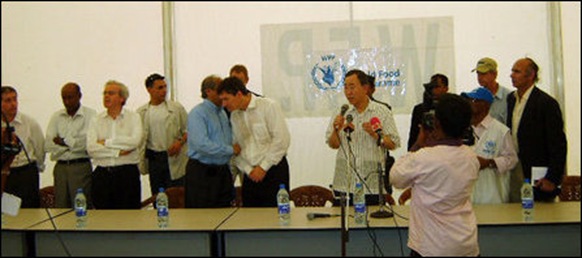 (For updates you can share with your friends, follow TNN on Facebook, Twitter and Google+)