Sri Lanka to probe rights claims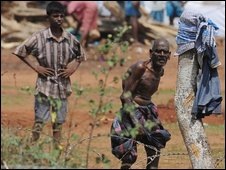 The Sri Lankan government has pledged to investigate claims of human rights violations committed during the conflict with Tamil Tiger rebels.
The pledge was made in a joint UN-Sri Lankan statement at the end of a visit by UN Secretary General Ban Ki-Moon.
But the government rejected UN calls to allow aid agencies immediate unhindered access to Tamil refugee camps.
President Mahinda Rajapaksa said the authorities first had to identify any remaining rebel fighters in the camps.
In the past the government has accused some aid agencies of helping members of the Liberation Tigers of Tamil Eelam (LTTE) sheltering among the refugees.
Last week the government announced that it had defeated the 26-year Tamil insurgency.
Resettlement
International human rights groups have said there are grounds for believing that both the Tamil Tiger rebels and the government may have committed war crimes in the closing stages of the country's civil war.
They accuse the rebels of deliberately holding people as human shields, and the government of carrying out indiscriminate shelling. Both sides deny the allegations.
But the final sentences of the joint Sri Lanka-UN statement state that Ban Ki-Moon stressed the importance of an accountability process for addressing rights violations, and that the government would "take measures to address those grievances".
However, the UN did not get everything it wanted from the Sri Lankan government.
Mr Ban's visit was aimed at pressing the authorities to allow aid agencies unimpeded access to the government-run camps.
On Sunday Mr Rajapaksa said security had to be assured before this could be granted, "in view of the likely presence of LTTE infiltrators".
"As conditions improve, especially with regard to security, there would be no objections to such assistance, from organisations that were genuinely interested in the well-being" of the displaced Tamils, he told reporters.
On Saturday, Mr Ban toured Manik Farm refugee camp near Vavuniya, and described conditions as "very, very difficult".
He also took a helicopter flight over the coastal area where the final battle was fought. "It was a very sobering visit, very sad and very moving," he said.
The government has said it plans to resettle most Tamil refugees with six months.
"We will try to work hard to keep that promise realised," Mr Ban said. "They need to be resettled as soon as possible."
Mr Ban also called for political reconciliation between the majority Sinhalese and minorities, including Tamils.
Sri Lanka officially announced an end to the war on Tuesday, after its troops took the last segment of land held by the rebels and killed the Tamil Tiger leadership, including its chief, Velupillai Prabhakaran.
It is thought at least 80,000 people were killed in the war.
(For updates you can share with your friends, follow TNN on Facebook, Twitter and Google+)