U.N. Chief Calls Sri Lanka War Zone 'Very Sobering'
By Emily Wax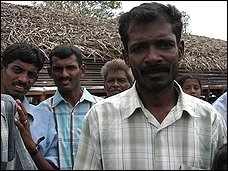 Night after night, with heavy shelling over their farming village, Krishma Lela and his family did what they could to survive: They dug a trench out of the red earth and huddled inside.
They moved only among a network of bunkers, made by hundreds of other Tamil villagers trying to avoid being caught in the crossfire between the Sri Lankan army and Tamil Tiger rebels during the last days of fighting in a quarter-century-long civil war that came to an apparent end Monday.
"We were so afraid," said Lela, a rice farmer who had made it to Manik Farms, a hastily erected camp now housing 200,000 people. "Sometimes at night my wife screams out. Her mind can't rest. She thinks like she's still inside the trenches, hiding."
Their story and others like it emerged Saturday as U.N. Secretary General Ban Ki-moon toured the biggest displacement camp for Tamil civilians and flew over the ravaged northeastern coastal villages, where the final battles were fought.
About 300 feet above the combat zone, Ban and a group of journalists surveyed a tableau of destruction: overturned buses, gutted houses, blown-off rooftops. Debris was strewn across vast stretches of scorched earth. There were also thousands of trenches, a lifeline for Tamil villagers trying to survive.
Along the coastal strip, the earth was also marked by deep craters — thought to be from bombs — which were beginning to fill with rainwater as the monsoon season begins.
The widespread devastation showed in stark terms the human cost of the government's push to end one of the world's longest-running conflicts. The government denied shelling or using heavy weapons in the fight, and defied calls by Ban and other world leaders to halt its offensive to protect civilians. Human rights groups and diplomats, along with doctors — some of whom have been detained by the government — said the government was responsible for heavy shelling that killed hundreds of civilians.
Ban will report his findings to the U.N. Human Rights Council, which has planned a special session on Sri Lanka on Monday. At least 7,000 civilians were killed in the final months of fighting, according to the United Nations.
"As I was flying over the war zone, I thought the fighting must have been very severe and inhumane for the people trapped," said Ban, who called the destruction "very sobering, very sad, very moving."
Both sides have been accused of war crimes, especially during the past few months as government troops cornered the Tamil Tigers on a narrow ribbon of land on the northeastern coast. Aid agencies say that the Tamil Tigers used civilians, including children, as human shields and that the government indiscriminately shelled hospitals and areas where civilians huddled in trenches.
"Both sides were shelling us. We spent weeks in those trenches," said Sumathi, 28, a mother of five who was a refugee in neighboring India during the 1990s, when half her family was killed in fighting. "I hate this country because of this war. I wanted to come back to my normal life. But now I am worried I will spend my whole life in camps."
Rohita Bogollagama, Sri Lanka's minister of foreign affairs, said he is "confident" that government forces did not commit war crimes.
The Tamil Tigers once dominated nearly a third of the island, running their own government, schools, banks, and even a navy and air force in the north. The rebels said they were fighting for a separate homeland for the country's largely Hindu and Christian Tamils, who make up as much as 15 percent of the nation's population of 21 million and claim discrimination at the hands of the Sinhalese Buddhist majority.
Nearly 300,000 Tamil civilians were displaced in the final months of fighting and sent to dozens of government-run camps in the north. Ban urged the government to "heal and unite without regard to ethnicity" in this nation with a long history of ethnic strife.
Ban warned that if the grievances of the country's Tamil population were not addressed, "history could repeat itself."
Lela, the rice farmer, complained that his 21-year-old son had been detained by the military, under suspicion that he was a rebel fighter, an increasingly common complaint by those with military-age sons.
"My livelihood is gone. And now my son is gone, too," Lela said, staring at the ground. "I just want to know he's okay. We thought things were so bad already."
Soldiers were stationed at every turn in Manik Farms, and barbed-wire fences encircled the area. Hundreds of people lined up to tell their stories to journalists. Many reported shortages of water and food.
One man opened his wallet to show worn photographs of his mother and sister.
"We were hiding for one month in the bunkers we dug," said Kumar, who asked to be identified by only his surname. "When we tried to run from the trenches on April 25, someone shot us. My mother and sister were killed."
Almost all of those in the camps left everything behind during the fighting, said Gerson Brandao, a U.N. field coordination officer.
"We're talking about a population that couldn't even bury or cremate their dead relatives because they had to run or huddle in a bunker," Brandao said. "They are relieved to be here. But they also feel trapped in the camp. . . . And they aren't allowed to leave, and they can't receive visitors."
Schoolgirls in spotless white uniforms and neat braids sang a song for Ban as hundreds of other residents of the camp gathered.
"I'm very moved after what I have seen. I've seen so many wounded," Ban said after speaking with a girl whose leg had been injured by shrapnel during the fighting.
Later in the day, Ban pushed for more access and freedom at the camps when he met with President Mahinda Rajapaksa at his home in Kandy, the site of the 1998 Tamil Tiger bombing of the Temple of the Sacred Tooth Relic. Thirty people were killed while visiting the historic temple, where a tooth allegedly snatched from Buddha's funeral pyre is enshrined.
Before the meeting, the nation's most honored Buddhist monks presented Rajapaksa with the country's highest honor. But not everyone was happy.
(For updates you can share with your friends, follow TNN on Facebook, Twitter and Google+)