Tamils escape the horrors of war to internment behind razor wire – The National Newspaper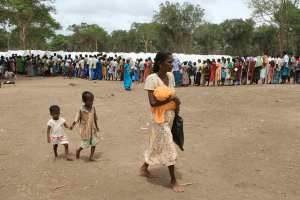 MANIK FARMS, SRI LANKA // Shiva Rubi last saw her son two weeks ago when she and thousands of others waded across a waist-deep lagoon that formed the physical barrier between the advancing Sri Lankan army and the final redoubt of the Tamil Tigers.
After days of sheltering on a tiny strip of beach in makeshift bunkers with shells raining down on them, she and her four children decided to make the dangerous journey.
She counts herself among the lucky ones. Her family made it across safely, but when they reached reach army-controlled territory on the other side her 21-year old son Pradap was separated from them on suspicion of being a rebel fighter.
Now, she is being held in "Zone Four", part of the sprawling Manik Farms camp complex near the northern town of Vavuniya, which has been hastily constructed over the past few weeks to deal with 280,000 of the 300,000 Tamils displaced by the end of the 26-year-long conflict.
Spotting a group of journalists who were granted rare access to the camps this week, Ms Devi, 47, broke from a long line of people waiting in the midday heat for their daily ration of milk powder to ask for help.
"I don't know where he is. They took him at the checkpoint," she said. "Help me find him. He is big and tall."
Ms Devi denies her son was a member of the Liberation Tigers of Tamil Eelam (LTTE) but as a man of fighting age coming out of the conflict zone he attracted the attention of the armed forces "screening" for those that served, willingly or unwillingly, in the separatist guerrilla force.
The army said it has already filtered out 9,100 LTTE fighters through what it calls a "voluntary" system of "self confession" and sent them to separate camps for rehabilitation.
Despite this, it said there may be more sympathisers among the civilians and senior military officials offer this as one of the reasons why all the internally displaced people must be confined to camps.
It has also said aid agencies will not be granted full access to the camps until this process is complete.
"You are talking about a population who were forcibly conscripted over three decades of war," said Brig LC Perera, who is in charge of the camps. "Most of them would have been involved in terrorist activities at some point. There are still some segments that remain."
But having survived the final bloody stages of the war – the UN estimates 7,000 civilians were killed between January and the conclusion of the conflict – people such as Mrs Devi are now having to fight another battle – to find their missing relatives.
Their task is hindered by the fact they are forbidden from leaving the camps, which are patrolled by armed soldiers and ringed with razor wire.
At another camp down the road from Zone Four, hundreds of interred people were pressed up against the barbed wire fence hopeful that relatives who had been living outside of rebel-controlled territory, and who are therefore at liberty, might have tracked them down.
There were tearful scenes as family members found each other, only to be prevented from doing anything other than hold hands through the fence.
"I have been sick and we do not have enough to eat. They won't let me leave to go to a hospital," a thin young woman dressed in a simple ragged dress told her sister who had found her after days of searching.
It is uncertain when those in the camps will be released. Originally the government said the repatriation programme would take up to three years, but under pressure from aid agencies and donors it has promised to resettle 80 per cent of those in the camps by the end of the year.
The military has also given conflicting reasons for holding the displaced.
Having initially said mass detention was needed to weed out former LTTE fighters, Brig Udaya Nanayakkara, the official military spokesman, admitted no formal "screening" was being carried out and stated instead that the camps' inhabitants were being kept there for their own safety.
With so many people crammed into relatively small areas – Zone Four, the camp for the most recent arrivals, holds 34,000 people on less than one square kilometre – the race is now to make conditions bearable for people who are already weakened and traumatised by war.
Access to water in the camp can mean standing in line for up to three hours, said one woman. A man and his wife who had stood in line at the rations tent for two hours walked away with a kilogram packet of milk, a bottle of water and two bars of soap.
Many of the camps inhabitants said they were sharing tents measuring three metres by six metres with several families.
In one such tent, a man named Rasalin Kam lay on the floor. Dressed only in a loin cloth, he had a piece of dirty surgical tubing emerging from his side to take fluid out of the wound he says he sustained while sheltering in a bunker near the village of Mullaitivu for 10 days.
Others in the tent had been in the same area. Ranjithan, 44, said her husband had been killed when government forces fired on their bunker. Another woman said her brother and his wife had been killed three days apart by "bombs" coming from the army's side of the lagoon. Their deaths mean she is now caring for their two small children.
The army, however, has repeatedly denied using heavy weapons on the area, saying any deaths in what was designated as a civilian safe zone were at the hands of the LTTE.
On Wednesday, Sri Lanka secured enough support from member nations of the United Nations Human Rights Council to scupper a western-led resolution in favour of an investigation into war crimes on both sides.
(For updates you can share with your friends, follow TNN on Facebook, Twitter and Google+)