S.Lanka seeks help in dismantling Tigers' network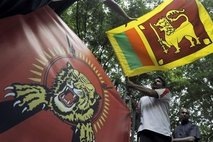 Sri Lanka appealed on Sunday for international support in dismantling the global political network of the Tamil Tiger rebels after declaring a full military victory over the separatist movement.
Foreign Minister Rohitha Bogollagama told a high-level security forum in Singapore that Colombo needed help in disabling the Tigers' "powerful political lobbies in certain capitals" that are seeking to resurrect the movement.
"It is important for the international community to take all measures to assist the government of Sri Lanka, to track down the global network of the LTTE," Bogollagama said.
Speaking at the forum organised by the International Institute of Strategic Studies, Bogollagama also rejected allegations of genocide in the last days of the Sri Lankan military's battle against the LTTE.
"This was both fictional and well-fabricated, with ulterior and sinister motives in order to discredit the armed forces as well as to embarrass the government of Sri Lanka," he said.
There have been allegations that large numbers of civilians had been killed as the Sri Lankan army closed in on the rebels to end the decades-long war.
Rights group Amnesty International on Saturday called for an independent probe into the number of civilian deaths.
A day earlier, The Times of London newspaper had cited what it said were confidential UN reports stating that more than 20,000 civilians were killed by Sri Lankan army shelling.
But Bogollagama said the campaign to crush the rebels was a model for others to follow.
"Sri Lanka will, no doubt, enter the annals of history as a classic textbook example of a nation that successfully prevailed over the scourge of terrorism, whilst tenaciously upholding the cherished values of democracy and human rights that have been deeply engraved in the psyche of our people," he said.
The LTTE's fall would also strike a blow to international terrorism, the minister said.
"The elimination of the LTTE from Sri Lanka as a terror organisation would prevent other facets of terrorism, such as money laundering, narcotics trafficking, human smuggling, arms smuggling, and other means of terrorist networking the world over …" he said.
Bogollagama also emphasised the importance of the immediate post-war actions taken by the government.
"This post-conflict phase is crucial in restoring confidence in people. We know these chances won't come all the time, and some chances only come once, and this is one such chance that we have got, and we will not miss out on this opportunity."
He said the rehabilitation and resettlement of the 280,000 refugees displaced by the conflict was one of the key priorities of the Sri Lankan government, promising they would be treated fairly.
"The government is firmly committed to reaching a political settlement acceptable to all… We'll have an inclusive process in this regard, and we'll have everyone who is conscious of our country onboard irrespective whatever ethnic identity one might have by birth."
(For updates you can share with your friends, follow TNN on Facebook, Twitter and Google+)