UN can investigate Sri Lanka's actions – war crimes judge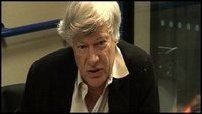 The United Nations is able to investigate the war crimes which occurred recently in Sri Lanka, British human rights lawyer and international war crimes judge, Geoffrey Robertson QC said Sunday. The avenues for the UN include the UN Human Rights Committee, which can investigate individuals' complaints against states under the International Convention on Human Rights, to which Sri Lanka is a signatory. The UN Human Rights Council, by contrast, is a "highly politicized" body staffed by diplomats of various countries, including those abusing human rights, rather than human rights experts, he said.
Mr. Robertson has served as an appeal judge at the UN's Special Court for Sierra Leone from 2002-2007 and is presently on the UN's Internal Justice Council.
Having been counsel in many landmark cases in constitutional, criminal and media law in the courts of Britain and the Commonwealth, Mr. Robertson makes frequent appearances in the Privy Council and the European Court of Human Rights.
Asked on BBC radio about the UN Human Rights Council's acceptance last week, by majority vote, of a self-congratulatory resolution tabled by Sri Lanka, Mr. Robertson said he wasn't surprised.
"Well, the Human Rights Council is a highly politicised body. It is made up not of experts on human rights, but of paltering diplomats. Europe only has seven seats … We have countries like Russia and China obviously concerned to keep their own internal problems down and away from international oversight. So the decision [on Sri Lanka] is not really surprising."
"[However] that's not the end of the story because UN officials can [still] look into it," he said.
"[ ] Sir John Holmes is concerned. [ ] Judge Navi Pillay wants to conduct an investigation."
"More importantly, there is the UN Human Rights Committee which sits in Geneva. It is a kind of court and individuals can complain [to it]. Unusually, Sri Lanka has actually signed up to the International Convention on Human Rights which has this is the body that investigates complaints. So any individual can complain against Sri Lanka."
"So there is certainly going to be an inquiry, I would have thought, by Human Rights Committee."
"And there are other possibilities – the convention on Torture, the convention on Rights of the Child, even the Genocide convention, could all be applied in due course," Mr. Robertson said,
"So there are ways and means of finding out – fact-finding in effect – as to whether there have been breaches of the Geneva Convention, the targeting of civilians, the bombing of hospitals, and so forth as has been alleged."
Mr. Robertson was asked about Sri Lanka's continued denial of access to the war-ravaged north where 20,000 Tamil civilians were massacred by Colombo's military in recent months.
"The Sri Lankan government kept out the international media so that there would be no immediate eyewitnesses."
"They allowed the Red Cross in, but … [it is] prevented from giving testimony in international courts. … That is the quid-pro-quo: they can be in on wars but are not allowed to testify if they see war crimes."
"[Moreover] other humanitarian bodies were kept out and are being kept out."
However, Sri Lanka's actions will in any case eventually come out, Mr. Robertson said.
"In the fullness of time, of course, you do have witnesses, you do have thousands of people who were on that dreadful strip of beach," he said, in reference to the 'no-fire zone' in Mullaitivu where concentrated civilians were pounded by Sri Lankan artillery and planes.
Meanwhile, there were mass graves that would be excavated he said.
"This is the way, unfortunately, war crimes are now dealt with, through forensic investigators finding out the story by investigating mass graves."
"And there do seem, from aerial photographs, to be some [that can be investigated there]."
Mr Robertson is the author of 'Crimes against Humanity – The Struggle for Global Justice', published by Penguin and the New Press (USA), now in its third edition and published in six foreign language editions.
(For updates you can share with your friends, follow TNN on Facebook, Twitter and Google+)