Aarthi and I: Jayam Ravi on marriage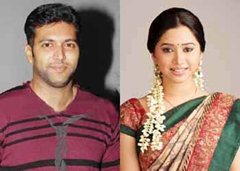 Jayam Ravi is soon to end his state of bachelorhood on coming 4th. As per his wish, he is getting married to Aarthi.
"I met Aarthi a few years back,. I immediately took a liking to her. I confessed my love to her and she reciprocated too. I told my parents about her and they had no objection. They gave me the green signal and we are to wed on June 4." So saying, Jayam Ravi happily gave the press his wedding invitation.
After conveying our good wishes, we asked Ravi about some rumours surrounding his wedding.
"That is what I cannot understand. There is absolutely no truth in these rumours. Even without my asking, my parents give me whatever I need. So there is no way they would not accept the girl I love. I do want to consider the press as my family. There are some family members who may be spreading rumours. I consider those reporters who have written false news like that," said Ravi , adding that at a happy time like this, why speak about unsavoury matters.
"After my marriage, I'm sure I will make a bigger name for myself in films. I do not believe that my female fans would dwindle in numbers after my marriage." We wished the confident Ravi all the best and took leave.
The wedding reception will take place on coming 7th at Mayor Ramanathan Hall at MRC Nagar, Chennai.
Dailynews – Aarthi and I: Jayam Ravi on marriage
(For updates you can share with your friends, follow TNN on Facebook, Twitter and Google+)