MIA's endorsement expected to boost Jananayagam's MEP prospects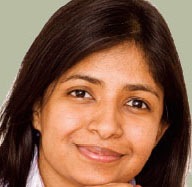 Oscar and Grammy award nominee, Eezham born music phenom, Maya Arulpragasam (MIA), offered a free song, and has initiated an online campaign appealing to British voters to elect Ms Janani (Jan) Jananayagam, a Jaffna born young banking professional, as a Member of European Parliament (MEP) in the June 4th elections. "Vote to Jan could save 300,000 [Tamil] people [in Sri Lanka]," MIA's entry in Myspace, and a linked twitter message said. Ms. Jananayagam is contesting the London electoral region as an independent candidate, and MIA's support is expected to convince young British fans to exercise their votes, a campaign organizer said.
Ms Arulpragasam has appeared in several popular U.S. television shows, where she has accused the Government of Sri Lanka of committing genocide on Tamil people.
While Arulpragasam's messge indicated a free song will be made available for download, the lyric displayed with the message is speculated to be part of the free song.
so u wanna hear about my politics?

well i can show u things that can make u sick

theres a saterlite above me thats takin picks

the people from the east hav started sendin migs

and im sat in America doin twitts

and the armys lookin at me like im a bitch

but im thinking bout the babies lyin in the ditch

thinking if they had a kite fone u ll see the shit
Ms. Jananayagam said that she was pleased with the support she is receiving from Tamil diaspora, and that several community leaders of other immigrant groups have taken time to campaign for her candidacy.
(For updates you can share with your friends, follow TNN on Facebook, Twitter and Google+)