Nayantara is not married, says her manager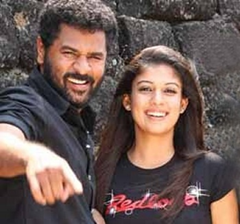 Maybe it's the end of kathiri veyil but the heat has hardly decreased! The news of a secret marriage between Prabhu Deva and Nayantara has been a hot gossip in Tamilnadu and Andhra.
After her break-up with Simbu, Nayantara vacated her Chennai home and shifted to Hyderabad. She said, "From now on, I will only concentrate on films," and true to her word, she build up a huge fan following in Tamilnadu and Andhra.
Prabhu Deva brought back Nayantara to Kodambakkam to pair with Vijay in 'Villu.' She was romantic with Vijay in front of the camera and with Prabhu Deva outside of it. There is no smoke without fire and it looks like Prabhu Deva has been smitten too. The gossip spread over Andhra and then in Tamilnadu.
A few months back, a scribe asked Prabhu Deva if he and Nayantara were romantically involved. The actor responded with, "Sorry, boss, that is my personal matter." For a similar question, Nayantara also gave a similar answer!
Yesterday, a Telugu channel announced that Nayan and Prabhu Deva had wed secretly. This spread to Tamilnadu also and had the phones ringing non-stop with an eager media tailing the scoop news.
When a call got through to Nayantara's manager, he responded with, "Who said so? This is the work of mischief makers.
(For updates you can share with your friends, follow TNN on Facebook, Twitter and Google+)