Sri Lanka navy confirms aid cargo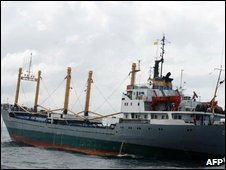 The Sri Lankan navy says it has found only food, medical items and similar goods on board a ship sent by Tamil expatriate groups in Europe.
The vessel was intercepted by the navy days ago and the government said the expedition was intended to help the now-defeated Tamil Tiger rebels.
But a Tamil spokesman denies this, saying he hoped aid would still reach Tamils displaced by the war.
A navy spokesman could not comment on what would happen to the cargo.
A naval team has been searching the Captain Ali vessel, but the spokesman told the BBC that up to now it had found only food and medical items.
Those on board are a British Tamil citizen, 13 crew members from Syria and Egypt, and an Icelandic man.
He said the search had stopped for now and the navy personnel still on board were very friendly and courteous.
The expedition began in two legs from Britain and France in April and May.
'Divisive' description
Sri Lanka's defence ministry had described the boat as an "LTTE [Tamil Tiger] vessel".
But the defence secretary, Gotabhaya Rajapaksa, in a Sunday newspaper interview, has confirmed that the ship "did not have any dangerous intentions".
A London-based spokesman for the voyage, Arjunan Ethirveerasingam, said such a description was divisive and damaging.
The organisers wanted to continue sending aid to the vast number of Tamils displaced by the war, he said.
He said the ship had nothing whatsoever to do with the Tamil Tigers, although he acknowledged that when it first set out, it was planning to go directly to what was then the war zone.
Mr Ethirveerasingam says he was concerned for the welfare of the man in Sri Lanka due to take delivery of the goods, a diabetic who, he says has been in detention since Thursday morning at the Criminal Investigation Department.
(For updates you can share with your friends, follow TNN on Facebook, Twitter and Google+)