The war is over but the war against the media is not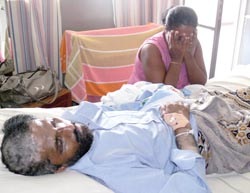 If Sri Lanka post war was being lulled into a false sense of security that the island nation could now become the functional democracy it deserves to be, the brutal attack on well-known journalist Poddala Jayantha last week served as an eye opener that while the war against the LTTE is over, the war against the media is certainly not.
The attack on Jayantha, a journalist of repute had drawn worldwide condemnation that Sri Lanka is showing no signs of curbing attacks on the media. The innate fear among journalists is amply demonstrated by the fact that over 20 top journalists have fled Sri Lanka since January 2009 in addition to media activists and some heads of media organisations. Most of them prefer to consider silence is not only golden but also life saving. Hence, when asked for reasons for fleeing, they offer no comment. (Read box)
It was well known that Poddala Jayantha as the vocal General Secretary, Sri Lanka Working Journalists' Association (SLWJA) has earned the wrath of the administration. While on his way back home, he stopped at a boutique at 5.40 p.m to purchase three vegetable rotties for his child. As he walked passed a parked white van, he was dragged inside and mercilessly assaulted for over 45 minutes.
Brutal attack
Today, Jayantha is confined to a hospital bed nursing a broken left leg and an injured right leg. After two operations being performed on a fractured leg, fingers crushed for wielding a pen, Jayantha's spirit remains unbroken.
Jayantha categorically states that the state controlled ITN showed visuals of him on its segment called "After News" repeating an accusation by the IGP that some journalists were paid by terrorists to advocate media freedom. On May 22, a state run Sinhala daily called for the stoning and expelling of so called 'professional journalists who grow beards.'
Jayantha who is known for his beard told The Sunday Leader: "The reference was clear. The stage was set for this attack."
Importantly, Jayantha from his hospital bed added that a transcription of the IGP's hate speech was sent by speed post to Defence Secretary Gotabaya Rajapakse to impress upon the fact that his life was indeed in danger. "I subsequently hand-delivered a copy to Minister Dulles Alahapperuma after which the President summoned heads of media organisations for a discussion. Ironically, I came under attack while the discussion was going on," he said.
A dramatic turn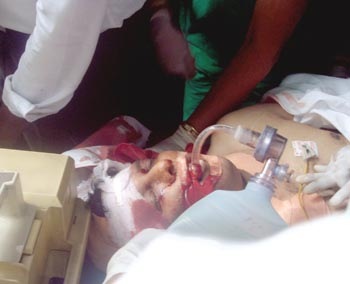 Jayantha's abduction and assault took a further dramatic turn thereafter. Lanka-e-News Editor Sandaruwan Senadheera and News Editor Bennet Rupasinghe in public spiritedness informed the IGP about Jayantha's incident when they learned about the attack and next informed his wife. Following this both were grilled by the CID and later remanded. They were released on personal bail of Rs. 300,000 each by the Gangodawila Magistrate who rejected a police appeal to remand them until June 10.
Referring to the arrests, Poddala Jayantha accused the police of attempting to misdirect the investigation into his own abduction and assault and to implicate fellow journalists who did their duty by informing authorities of a criminal act.
In this oppressive backdrop, the New York based Committee to Protect Journalists (CPJ), International Federation of Journalists (IFJ), Human Rights Watch (HRW) and Reporters Sans Frontiers (RSF) have ranked Sri Lanka among the most unsafe places for journalists to live, a fact supported by the statistics of journalists who have fled fearing for safety.
While Human Rights Watch has openly called for an end to a post war media witch-hunt in Sri Lanka, the IFJ together with 28 other media associations have urged the government to end the war against the media. But repeated calls to allow the media to function normally have fallen on deaf ears.
Unabated crimes
The unabated crimes that continue here by no means could be justified in the name of patriotism. The final phase of the war saw the media turning servile and made to turn servile (it had experienced such violence that it had little choice) and today, the media's role as watchdog has been severely compromised.
Let's not also forget that to reach this level of an unquestioning and agreeable media, the dissenters have been put through a lot including closure, application of economic pressure, harassment, physical attacks and death.
A media institution head living in exile notes that it is tragic for the Sri Lankan media, 'so vibrant and diverse in the past, to be reduced to this — a great disservice to the public.'
He adds that "Even if these series of attacks on the free press have nothing whatsoever to do with the government in power, the administration has blown its credibility by refusing to make any headway with regard to any of the attacks against journalists in the recent past."
Escalation of attacks
Since January 2009, Sri Lanka experienced an escalation in the multiple attacks against the media, the origins of these attacks being different.
Followed by the January 6 arson attack on the MTV/MBC Networks, a heinous crime was committed by a competent armed gang when The Sunday Leader Editor, Lasantha Wickrematunge was killed in Attidiya in broad daylight, just two days after the MTV attack. When Upali Tennakoon, Editor of pro-government Rivira was knifed with his wife by his side, dozens of journalists began to fill their departure forms.
In April, Editor of the Batticaloa based weekend newspaper Vaara Ureikal, M.I. Rahmahetulla was attacked by an armed gang carrying guns, long knifes and swords causing him serious injuries, the second attack on him.
To prod the readers' memory of the treatment meted out to media personnel, we include a few highlights that tell a terrible tale of intimidation, suppression and physical risk.
Intimidation and suppression
A well known media activist and General Secretary, Federation of Media Employees' Trade Union (FMETU), Dharmasiri Lankapeli had the Special Intelligence Service personnel visiting his neighbourhood in February to make inquiries about the activist. Last year, Poddala Jayantha himself had his house 'mistakenly' visited by the police.
On March 5, Mt. Lavinia Police arrested the manager of a bookstore in Wellawatte, one Sritharasingham, at his residence. Police told newspapers that he was arrested for distributing Tamil magazines published in South India and supportive of the LTTE.
Abduction and subsequent release
Another senior journalist, Sudaroli Editor N. Vidyatharan was unceremoniously hauled into a white van on February 26 and kept in TID custody over alleged links with the LTTE, only to release him in May after dropping all charges.
On March 11, the sensational abduction and subsequent release of Prof. Dhammika Ganganath Dissanayake, a former Rupavihini Corporation chairman and a senior lecturer at the Sri Jayewardenapura University demonstrated the fact that Sri Lanka was indeed on a precipice where media freedom was concerned. His alleged crime was a book he was allegedly writing that was critical of the present regime.
In March, Defence Secretary Gotabaya Rajapakse in an interview with Australia's SBS TV named Sudaroli Editor N. Vithyatharan as a traitor despite police investigations ongoing at the time. This is an honour the Defence Secretary bestowed upon MTV Channel Head, Chevaan Daniel too in the aftermath of the arson attack on the channel, by labeling him a "terrorist."
The state run Dinamina has regularly carried blistering attacks on several journalists including Secretary, Free Media Movement, Sunil Jayasekera. Jayasekera earned the government mouthpiece's vitriolic attack following his speech made at the launching of the Platform for Freedom on March 19 on 'Sri Lankan media going through its bitterest moments in history.'
'White-collar terrorists'
Around the same time, a JHU backed nationalist website made an e-attack on Vikalpa, an initiative by the Center for Policy Alternatives (CPA) as a white-collar terrorists' collective. In April, Defence Spokesperson, Keheliya Rambukwella branded a media NGO, Panos Sri Lanka as a pro LTTE institution and claimed the government possessed a list of journalists who were paid to do LTTE propaganda.
Army Commander, Gen. Sarath Fonseka too in a television interview in May pledged action against journalists whose reporting 'benefited the LTTE,' saying that they would be prevented from leaving the country and be prosecuted for treason.
On a similar note, Inspector General of Police Jayantha Wickremaratne too has accused unnamed Sinhalese media-freedom activists of being paid by the LTTE to generate false reporting intended to implicate the army in war crimes.
And now with the LTTE Spokesperson Daya Master in state custody, it is now claimed that a list of 50 journalists who were on the LTTE payroll would soon be released.
If the events chronicled here are an indicator, they certainly do not inspire confidence in the minds of journalists to stay on and continue with their vocation. While the Chief Executive makes public calls for the return of immigrants to play a role in nation building, the words should be matched by state action.
As journalists are brutally gunned down, assaulted and others slandered and labeled as LTTE agents, it is as if journalists have been classified under the newly defined 'unpatriotic' category.
The war was the excuse for all the human liberties suppressed and violated. But post war, surely the culture of impunity must give way to an inclusive and democratic culture.
(For updates you can share with your friends, follow TNN on Facebook, Twitter and Google+)