Navia falls into glamour groove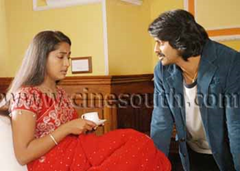 We live in times when just giving an extra 100 rupee note will earn someone an extra vote. Cinema field is also like that. Add a lakh or two and saintly actresses are also only too happy to let go.
The modest Navia Nair has also jumped on to the glamour bandwagon. 'Rasikkum Seemane' directed by RK Vidyadaran was originally titled 'Ettappan' in which Srikanth plays a negative role. Navia Nair is the heroine.
According to the story, Srikanth is hell bent on having Navia Nair and he schemes to slowly trap her in his net. After this, the couple is supposed to feature in a bedroom scene and shower scene. Though these scenes were integral to the story, Navia is said to have refused to do them.
She refused to relent from her decision till a couple of extra lakhs were thrown in. She then agreed to do the scenes on condition that these stills are not released to the media.
(For updates you can share with your friends, follow TNN on Facebook, Twitter and Google+)