Students, IT professionals protest against genocide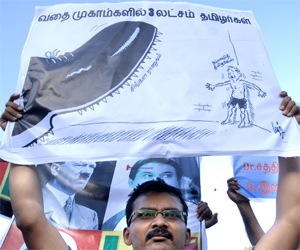 A collective of IT professionals, medical students and youth lashed out at the State and the Centrefor their apathetic attitute towards the Sri Lankan Tamils. To mark their protest they took out a rally in the city on Sunday raising slogans against President Mahinda Rajapaksa for ordering the genocide of Tamils.
They compared the refugee camps of the Lankan Tamils with that of concentration camps set up by the Nazis. "Innocent people died terrible deaths due to the evil doings of the Sri Lankan defence forces. It is high time for the government of India to interfere in this issue in a proactive manner and do justice to Eelam Tamils, who were subjected to genocide at the hands of the Sri Lankan military troops," said Saravana Kumar, one of the organisers of the rally.
Over 100 people participated in the rally. Many of them were vociferous when it came to India's stance. "India is more concerned about its territory. It extended military assistance to Sri Lanka because of the growing influence China and Pakistan exert on the government existing in the Island nation," said Arun Kumar from HCL.
Pointing out that the requirement of having a more mature and pragmatic approach towards the issue, Fr Jegath Gasperraj of Tamil Mayyiam said that the issue was moving from political parties to civil society organisations. The involvement of civil society organisations will make this fight more mature, consistent and sustainable, he added.
Though protestors came with placards of slain LTTE chief Velupillai Prabakaran, they were a good number of them who expressed their dislike for LTTE.
(For updates you can share with your friends, follow TNN on Facebook, Twitter and Google+)