Ajith in Seeman's heart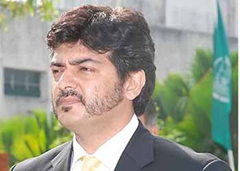 After completing 'Asal,' Seeman and Ajith team up.
After speaking out in support of the Liberation Tigers and ending up behind bars, Seeman has again turned his attention back to films. After 'Vazhthukkal' Seeman had no films on hand but it seems producers are now seeking him out.
Because of his fiery supportive speeches, it seems many Srilankan Tamils living overseas have great affection and regard for him. They are even prepared to invest heavily in films so Seeman can direct some really good films.
Seman has decided to take on a project with producer Thanu. After 'Thambi' and 'Vazhthukkal' with Madhavan, Seeman is now to team up with Ajith. The story is also ready. Since Ajith has okayed the story, Seeman is busy with his next phase of activity.
In case Ajith is not acting in this film, Seeman has decided to cast Madhavan in the lead role.
(For updates you can share with your friends, follow TNN on Facebook, Twitter and Google+)