Sri Lanka extends emergency laws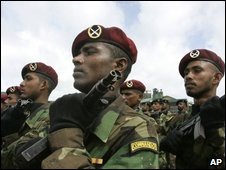 Sri Lanka's parliament has voted to extend the state of emergency for another month, despite the defeat of Tamil Tiger rebels last month.
A defence spokesman said that the army still needed time to to root out any remaining Tamil rebels.
The emergency has existed for most of the last 30 years and constitutionally has to be voted on every month.
It gives security forces wide-ranging powers to arrest and detain suspects indefinitely without charge.
"There could be fire beneath the embers," Prime Minister Ratnasiri Wickemanayake told Sri Lanka's parliament.
"If there are elements who still support terrorism, we will deal with them," he said.
About 250,000 people were displaced during the final bloody phase of Sri Lanka's 26-year civil war. Most of them are being housed in camps in the northern Vavuniya district.
About 2,000 people were resettled in their home villages on Tuesday.
The government says all those displaced are being strictly vetted to ensure they have no links with the rebels.
Even though the war has officially ended, Sri Lanka remains a heavily militarised country, correspondents say.
(For updates you can share with your friends, follow TNN on Facebook, Twitter and Google+)