Japan urges Sri Lanka to engage global community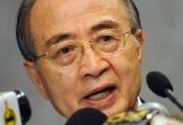 Japan on Thursday urged Sri Lanka to develop closer ties with the international community as Colombo tries to rebuild the war-battered north of the island after decades of bloody ethnic conflict.
Yasushi Akashi, a peace envoy for Tokyo, Sri Lanka's largest aid donor, said the government in Colombo needed to engage in a "continuous dialogue with the international community".
"Sri Lanka needs and deserves more fruitful two-way dialogue with the international community with as many countries as possible as well as with the UN and other organisations," he said.
In recent months Colombo has angrily fended off criticism of its massive offensive against the Tamil Tigers, including allegations that government troops killed thousands of civilians before it defeated the separatist rebels.
Sri Lanka has also barred aid workers, rights activists and journalists from working freely in the north, where hundreds of thousands of Tamil civilians displaced by the fighting have been confined to heavily guarded camps.
The envoy said Sri Lanka "has lots to do" to improve the conditions of those living in the overcrowded camps in the north, where there are shortages of food, water, sanitation and medicines.
"Many people appeared to be undernourished," he said after a visit.
Akashi, ending a three-day trip to the island, said Sri Lanka may have lobbied enough diplomatic support to block a war crimes probe, but he hinted the government had severely damaged its ties with many nations.
A stand-off at the UN's Human Rights Commission last month, he said, was "an indication that lots needs to be done to bridge the different perceptions and different priorities in countries."
"There is always a need for more candid dialogue with international friends," Akashi said.
Sri Lanka has locked horns with Western nations and accuses international aid agencies of having supported Tamil rebels. It has won support from Russia and China to keep the issue off the Security Council's agenda.
Akashi said international opinion was divided on the way the conflict with the Liberation Tigers of Tamil Eelam (LTTE) ended, and why so many casualties took place during the final stages of the nearly four-decade conflict.
(For updates you can share with your friends, follow TNN on Facebook, Twitter and Google+)