Sri Lanka camps a 'national disgrace'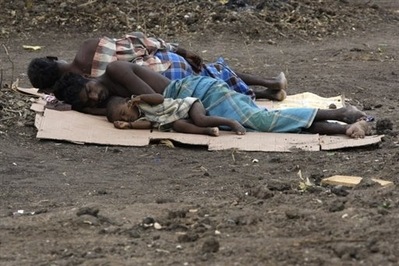 The Sri Lankan government faced renewed demands Friday to free nearly 300,000 war-displaced civilians, who fled Tamil Tiger rebel territory, from tightly guarded state-run camps.
New York-based Human Rights Watch said the squalid camps, which are ringed with barbed wire, were a "national disgrace" and violated international law.
"For more than a year, the Sri Lankan government has detained virtually everyone, including entire families, displaced by the fighting in the north in military-run camps, in violation of international law," the group said.
"Treating all these men, women, and children as if they were Tamil Tiger fighters is a national disgrace," said Brad Adams, Asia director at Human Rights Watch.
The island's government has promised to resettle those in the camps by the end of the year, once it weeds out suspected rebels.
It also calls the camps "welfare villages" — even though the civilians have no freedom of movement.
"The Sri Lankan government should end the illegal detention of nearly 300,000 ethnic Tamils displaced by the recently ended conflict in Sri Lanka," Human Rights Watch said.
Sri Lanka promised UN Secretary General Ban Ki-Moon during his visit to the island last month that most of the civilians will be re-settled in their homes and villages within six months.
The Tamil Tigers were defeated last month with the annihilation of the rebel leadership after an assault in the north-eastern district of Mullaittivu.
"Many people are in the camps not because they have no other place to go," said Adams. "They are in the camps because the government does not allow them to leave."
He said conditions in the camps were overcrowded, some holding twice the number recommended by the United Nations High Commissioner for Refugees.
"The poor conditions in the camps may worsen with the monsoon rains," Adams said. "Holding civilians who wish to move in with relatives and friends is irresponsible as well as unlawful."
(For updates you can share with your friends, follow TNN on Facebook, Twitter and Google+)