"I am no threat to Sri Lanka's national security"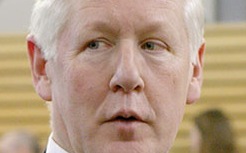 Following his deportation from Sri Lanka last week, Bob Rae spoke exclusively to The Sunday Leader. The Canadian government condemned Sri Lanka for expelling Liberal MP Bob Rae on the pretext that he was a security risk, calling the move "unacceptable." Politicians of all parties called the incident an insult to Canada, and Rae said the notion that he was a threat to the country "is absolutely absurd."  The Canadian government also did not mince words.  "It is absurd to suggest that Mr. Rae represents a threat to Sri Lankan national security, or is a supporter of the (Liberation Tigers of Tamil Eelam)," Foreign Affairs Spokeswoman Emma Welford said in an e-mail. "We have registered to the Sri Lankan government our dismay and displeasure concerning this unacceptable treatment of a Canadian parliamentarian."
By Brian Turner
Q: It's been alleged  that you only had a one way ticket for your visit – which is why your trip was  deemed suspicious — was this the case?
A: No, of course not. I had a round trip ticket, and was hoping to stay for three full days.
Q: Were you able to speak to anyone from the government about the decision to revoke your visa? 
A: I spoke to no one directly at the airport who was in a position to discuss the decision to disregard my visa and not allow me in.
Q: When did you become involved in the Sri Lanka issue and how do you personally plan to continue your work / campaign now that you have been denied entry to the country?
A: I was first invited to Sri Lanka by then Minister G.L. Peiris. He was invited by the Forum of Federations to attend a major conference in 1999 and as chairman he asked me and others at the Forum to work with the government.  This work intensified after the Ceasefire Agreement of 2001. I attended the negotiation sessions throughout 2002 and 2003, and also did work with a number of civil society groups, the army, and others, on governance and devolution issues.
I last visited the country in 2005 after the tsunami, for a number of meetings and a very widespread trip. This visit I asked permission to visit the Manik Farm camp which was refused at the airport.
In terms of what now? I had hoped to talk to both the government and the international community — including UNHCR and the Red Cross — about the conditions in the camps, as well as discuss with the government some of the longer term issues. I care about Sri Lanka and all its people. It's that simple and will continue to be involved.
I have received many e-mails and phone calls from Sri Lankan friends, and I know eventually a more reasoned view will prevail. I do, however, worry about what refusing to let me in represents, because to me it shows a reluctance to be open and engage. I am disappointed in this, and of course hoping it will change.
Nothing that has happened changes my feelings of goodwill to all Sri Lankans and my strong wishes for a positive future for the country and all its citizens.
Q: What of allegations that you are an LTTE sympathiser?
A: They are simply untrue. I am not an LTTE supporter or sympathiser. That is a ridiculous suggestion. I have often criticised the group for its extremism, its violence, its tactics, its recruitment of children. I have lost personal friends to their terrible violence, and have deplored their cultish behaviour.
I have been urging reconciliation and respect for pluralism in everything I do. I have personally helped victims of the LTTE's tactics leave the country in search of safety. I spoke at memorial services for Lakshman Kadirgamar and Keteesh Loganathan in Toronto and London.
Q: Do you think the time has come for the international community to take a stand on Sri Lanka?
A: Sri Lanka is a sovereign country and will make its own decisions, within a framework of international law. And the rest of us are free to speak our minds whenever we see abuses of human rights. [Full Coverage]
(For updates you can share with your friends, follow TNN on Facebook, Twitter and Google+)