Youth 'disappear' from IDP camps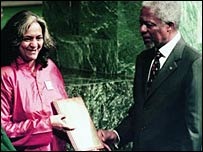 An international award winning human rights activist in Sri Lanka says that nearly 20-30 youth have been disappearing from camps in Vavuniya daily.
But Sri Lanka government rejects the accusation.
Sunila Abeysekara told BBC Sandeshaya that rights activists have received credible reports of regular abductions in the camps.
"We accept that the government has the right to search the camps for security reasons. But our concern is that there is no formal registration process," she said.
She says it is reminiscent of the 'era of terror' in late 80s when the state security crushed an armed uprising by the Sinhala youth led by JVP.
'Era of terror'
"We are already familiar with the pattern. Our information says that former LTTE cadres and members of other militant groups -hooded informants – point to the youth in the camps and then they were taken away in the night".
Ms. Abeysekara received a UN human rights award from Secretary General Kofi Annan in 1999. She was also honoured for her work by the Human Rights Watch last year.
Activists are seriously concerned that the government has failed to provide a list of internally displaced people (IDPs) in Vavuniya camps, she says.
It is expected that nearly 300,000 IDPs are in camps in northern Sri Lanka.
Human rights groups and the United Nations have called for more access to the camps but the government rejects the call citing security reasons.
'Hooded informants'
"There are reports that many people were arrested and disappeared while coming to Vavuniya from Vanni," Sunila Abeysekara said.
Quoting relatives of the disappeared, Ms. Abeysekara said the abduction in the camps is happening with the blessing of the security forces that guard the camps.
But the government has rejected the accusations.
Resettlement minister Risath Bathiuddeen told BBC Sandeshaya that only those who admit to be LTTE members were taken to detention camps.
"They are taken to rehabilitation camps by the ministry of justice. The relatives of those cadres are informed of their whereabouts," he said.
He also rejected Ms. Abeysekara's claims that the IDPs are not registered by the authorities.
None of these claims cannot be independently verified as only journalists on guided tours are allowed in camps by the government.
BBCSinhala.com | Sandeshaya | Youth 'disappear' from IDP camps
(For updates you can share with your friends, follow TNN on Facebook, Twitter and Google+)