Inner City Press: As Sri Lanka Cancels Its Self-Investigation, Ghoulish IDP Services for Fee, Where's UN?
The Sri Lankan government has canceled it own investigation of crimes and abuse during its conflict with the Liberation Tigers of Tamil Eelam, including of the murder of 17 workers of the non-government organization Action Contre la Faim. The commission of inquiry of President Mahinda Rajapaksa was supposed to get to the bottom of 15 other cases as well. But despite the accumulation of yet more accusations of abuse, including by the Army, the commission was allowed to expire.
The UN's top humanitarian John Holmes has been asked and has spoken about the investigation of the ACF killings. Now that the investigation is itself being killed off by the government, Inner City Press directed a request for comment to the e-mail addresses of Mr. Holmes and his spokeswoman on Tuesday morning. It was reiterated with an additional request for response and action on a ghoulish ad, below, offering services related to those interned. By close of business, no response at all had been received. One will continue to be sought.
We note that Secretary General Ban Ki-moon was quoted calling for Sri Lanka to investigate itself. Now that Sri Lanka has ended the investigative commission that it had, what is Ban Ki-moon saying?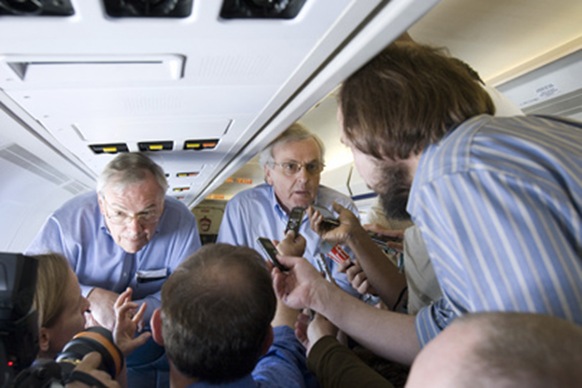 UN's Holmes questioned on way to Sri Lanka, comment on ACF and ad not shown

One UN agency which has provided a response, a day after questions were asked, is UNICEF. Citing a June 5 OCHA report that "a total of 217 child surrendees have been identified and registered in IDP camps in Vavuniya. 58 of them were transferred to Ambepussa rehabilitation center," Inner City Press asked, "Is UNICEF aware of any other locations where surrendees or suspected LTTE supporters have been taken?" UNICEF responded:
"There are other centres for adults. These include Nellukulam Technical College, Gamani Maha Vidalayam, Rambikulam Girl College, Pampamadul Campus Girls Hostel, Coop Training College, Poonthotam School, Vavuniya Tamil MV and Omanthai Maha Vidiyalam. UNICEF notified relevant authorities on the children in Nellukulam and is presently working with Government for their transfer to a child rehabilitation center, and to ensure that no other children have been placed in these locations."
Inner City Press has also asked for OCHA's response and action on an ad circulating worldwide on the Internet offering insider knowledge of where IDPs are locked up for a fee of $25 dollars. The ad says
INTERNALLY DISPLACED PEOPLE (IDP) SERVICES Do you have any of your family persons Internally Displaced (IDP) pre/during/after the war in Sri Lanka?Are they displaced? Do you want to find out where they are? OR Some Information We try to find out IDPs: whose-who? In direct contact / communicate with the law enforcement authorities. Please inform us the full details. Do you have any of your family lands/houses/ or any immovable property belong to you or your family in the war zone / catchment's area/s? We try to search and assist you in finding those assets. Recently it was announced that the government was taking control over all the lands in the war zone vicinities. If any one has/had a property with the legal ownership, we should be able to assist you or find reliable information provided you give us reliable details….
All these work what we do are with the government officers and law authorities namely forces/security personal, ministries, our personal contacts, SMS, Telephone calls, lawyer's fees etc., involves travel and stay in the North or East (permit areas). So the expenses incur on case by case basis. Do you want to build a monument for your loved ones'? If you want to organize a thanks giving mass for lost family friends/relatives or another person of any race, or build a monument. Please let us have the details. …Contact us for professional services. Registration fee: USD 25.00 first come first served basis. Registration please send your family details for registration. Type on a ward document and send. Indicate the service you need and will communicate the details with you. Please forward this email to those who need these services, if you are not interested in. L. Jude Perera Consultant IDP Services
What's sad is that people are so desparate that ads such as this are viewed as a good business model. As simply one response, to the issue of monument or memorial service, it's said that many Tamils are afraid even to grieve for family members killed, for fear of being profiled as separatism supporters. What is the UN doing about any of this? We'll have more on this.
(For updates you can share with your friends, follow TNN on Facebook, Twitter and Google+)