Karunanidhi wants India to help Sri Lankan Tamils with relief – IANS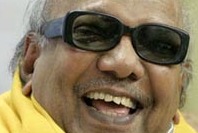 Tamil Nadu Chief Minister M. Karunanidhi has sought the central government's intervention after the Sri Lankan Navy turned away a ship carrying relief materials from Europe for the internally displaced Tamils in the island nation.
"It has come to our notice that MV Captain Ali, a ship carrying humanitarian aid collected by Tamils in Europe for the internally displaced Tamils in Sri Lanka, was turned away by the Sri Lankan Navy," he said in a letter to External Affairs Minister S.M. Krishna Friday.
The state's Higher Education Minister K. Ponmudi was to personally deliver the letter to Krishna.
"It is also reported that this ship is carrying about 884 tonnes of food, medicine and other relief materials for the affected Sri Lankan Tamil civilians," the chief minister said.
Karunanidhi urged the Indian government to intervene so that the relief materials can be provided to the needy.
"I consider it appropriate and timely and as well critical for the government of India to intervene at this juncture and persuade the government of Sri Lanka to allow unloading of the relief materials sent through the vessel MV Captain Ali. They may also be requested to consider the unloading and distribution of the relief materials under the supervision of international agencies like the International Committee of Red Cross (ICRC)."
(For updates you can share with your friends, follow TNN on Facebook, Twitter and Google+)