Shirani's story in Sri Lanka: Recovering from a double disaster
By Amanda George, British Red Cross, in Sri Lanka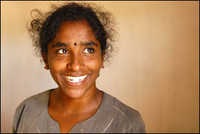 This is the third in a series of four profiles/case studies, looking at how Red Cross Red Crescent has helped people to rebuild their own lives after the tsunami in Sri Lanka.
The Sri Lankan village of Sallitheevu in Vaharai, Northern Batticaloa, has been affected by a double tragedy in the past few years – devastated not only by the armed conflict but also by the tsunami that destroyed the east coast of the country on Boxing Day 2004.
Sivaskaran Shirani, 27, is one of the many affected by both disasters. She has four children – two boys aged 11 and five, and two girls aged ten and eight.
"Our house was completely destroyed in the tsunami, but we all escaped," she says. "We received a new house under the tsunami reconstruction programme. Before the conflict came to our village, we had a good life. My husband was a fisherman and even had his own motorized boat. We made a good living.
Fighters in black masks
"Then during the battle for this area, fighters came to our house and ordered us to open the door. "They searched the house and found him. They dragged him into the house and executed him in front of me and the children. We were married for 12 years."
Shirani wipes a tear as she continues her story. "After my husband was killed, we escaped the fighting in our boat and went to Valachchennai. I sold the boat there and we lived as internally displaced people (IDPs) for a while. When the fighting ended and we were allowed to return, I came back here, although we had nothing left."
Restore their livelihoods
The British Red Cross began to work in Sallitheevu to help widows and other vulnerable members of the community to restore their livelihoods after the tsunami and the conflict. Shirani received fishing nets and seeds for home gardening as well as a household grant that she used to buy a fiberglass paddle canoe, which is currently being used by a relative who gives her a percentage of his catch, bringing in a small income. She has also taken up British Red Cross sewing training.
Shirani explains the importance of this. "Fishing is seasonal and sometimes there is no catch at all. That is why I took up sewing. I hope it will help supplement our income. Before this project I didn't know how to sew at all but I was interested in learning as I have four children to support.
"Now, after two months of training, I have the basic skills necessary to make most garments. This project will go on for couple of months more, so I expect to be able to make any garment well by then. I hope we will be able to make clothes we can sell on the market by the end of this project."
Make a difference
Shirani is also a member of the local village committee. "I joined the committee because I wanted to make a difference in the village as this is where my children will grow up," she says.
Shirani is desperate to do whatever she can to help her children. "I want to go abroad and earn some money for my children. I want to go to Saudi Arabia and work as a housemaid. I hear the money there is good. I can't watch my children suffer like this any more, so I have pawned all my jewellery and borrowed some money for the trip.
"I would have gone already, but I lost my birth certificate in the tsunami and am still waiting for them to issue a replacement. I plan to go as soon as I get it. I know the risks, but this is my last chance. If something happens to me, my children will be orphans and I can't bear to think of that, but I can't bear to listen to them cry with hunger either.
Educate our children
'We have a lot of financial difficulties, but all four of my children are still in school. It was my husband's dream to educate our children, and I will do anything I can to make sure that happens. But although the education is free, there are many expenses such as books, pencils, shoes and bags."
As if on cue, her eight-year-old daughter walks into the house just back from school. The bottom of her school bag is in tatters, forcing her to wear the bag upside down so that the books will not fall out.
(For updates you can share with your friends, follow TNN on Facebook, Twitter and Google+)