Vijay will speak lies: Ajith's opinion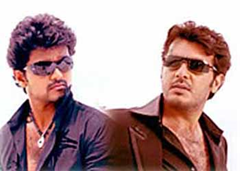 There are already signs of the next war between Vijay and Ajith fans.
There are only 2 more days for Vijay to reveal his intentions in politics. His birthday on June 22 is to be used as a launching day of his political career. Those close to him say this is not a sudden decision but something that Vijay has been working on for the past nearly 5 years.
Vijay's father SA Chandrashekaran is the man behind the scenes. Vijay has been having discussion after discussion with his fan club executives for the past few months. He has made a tentative plan to launch his new party.
Once Vijay is in politics, will Ajith follow? This is a natural question that follows. When asked about it, Thala's answers are full of hidden intelligence.
"When asked if I would come into politics, I must answer like Rajkumar. He said, 'I don't know how to tell lies. If I enter politics, I have to tell lies. That's why I will not enter politics.' I'm not prepared to tell lies," said Ajith.
Hearing this, Vijay fans have been enraged at the implied innuendo. "Does that mean our Ilaya Dalapathy is going to speak lies?" they say taking the other meaning.
(For updates you can share with your friends, follow TNN on Facebook, Twitter and Google+)