Move for President to stay on without polls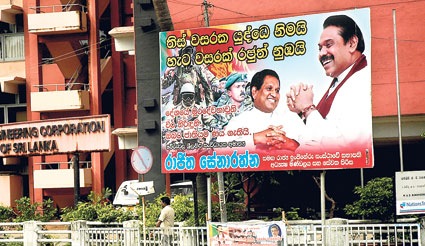 The government proposes to introduce constitutional amendments aimed at extending the term of office of President Mahinda Rajapaksa, without holding a presidential election, Minister Janaka Bandara Tennakoon told the Sunday Times yesterday.
As a prelude to the introduction of constitutional changes, an island wide campaign on gathering public support for the move had been initiated, the minister said. As a first step local government members including a section of opposition UNP members who met in Colombo on Friday, backed a resolution moved by Mr. Tennakoon who is the Minister of Provincial Councils and Local Government. Similar resolutions are to be moved at Provincial Council and Pradeshiya sabha level, before presenting the amendment to Parliament.
The Peliyagoda Urban Council's UNP Chairman , Nihal Ananda Perera who seconded the move said though he did not have party approval, he supported the resolution for the benefit of the country.
Mr. Tennakoon said the government was hoping to pass the amendment with a two thirds majority in Parliament with the support of opposition members.
A two thirds majority is required to repeal or replace any provision of the Constitution under clause 82 (5) of the Constitution. However, any amendment to extend the term of office of the President or the duration of Parliament over six years should also be approved by the people at a referendum.
At present, at least 133 MPs support the government but there is speculation that more TNA members and others might join for the government to get the two thirds majority of 150 in 225 member parliament.
Mr. Tennakoon said the main reason for the move to scrap the next presidential election was to 'save money' which could be eventually used for development activities—but he made no reference to the cost of holding a referendum raising questions as to what the real intention was. The cost of conducting a referendum will be similar to that of a presidential election.
It would cost more than Rupees One billion "At the moment there is also no suitable candidate to contest the President and therefore a majority of the people believe that the President should continue for another term without elections", the minister said.
The move has run into tough opposition from both, the UNP and the JVP which have described it as a dangerous threat to democracy. UNP frontliner John Amaratunga said such a move undemocratic move and the government needed a public mandate for any such move at a referendum.
The JVP propaganda secretary Vijitha Herath said the party was opposed to any move to extend the term of office of the President without holding elections.
"This is completely wrong. This is also contrary to the pledges made in the Mahinda Chinthanaya which was for the abolishment of the executive presidency after the end of the first six year term," Mr. Herath said.
He accused the government of trying to build public opinion for an undemocratic move.
(For updates you can share with your friends, follow TNN on Facebook, Twitter and Google+)