Thousands march for Tamil rights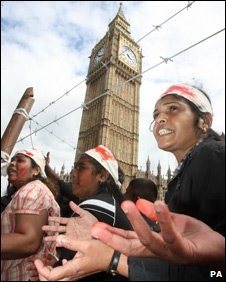 An estimated 20,000 people have marched in London in support of the minority Tamil population in Sri Lanka.
In May government forces wiped out the Tamil Tiger leadership, ending a 26-year war between the army and rebels.
More than 250,000 people are displaced from their homes in northern Sri Lanka, according to the UN.
The demonstration follows a 73-day protest for peace in the country that ended on Wednesday and featured mass sit-ins blocking central London roads.
Many of those at Saturday's demonstration waved black flags representing the civilians killed in the last phase of the conflict.
They carried placards accusing the Sri Lankan government of genocide and asking for thousands of displaced people held in camps to be released.
Some of the campaigners compared the plight of displaced Tamils in Sri Lanka to Nazi Germany.
Supporters built a mock-up concentration camp and marchers chanted: "Shame on Gordon Brown."
Suren Surendiran, of the British Tamils Forum, said: "The comparison with Nazi Germany will shock – but it should do.
"There are hundreds of relatives here who do not know what has happened to their next-of-kin. Genocide is happening before our eyes in Sri Lanka and the international community has taken little or no action to help.
"We have held talks with Gordon Brown but now we are calling for action."
Several main routes through the centre of London were closed to allow the march to take place.
The Tamil Tiger rebels started fighting in the 1970s for a separate state for Tamils in Sri Lanka's north and east.
(For updates you can share with your friends, follow TNN on Facebook, Twitter and Google+)