Sikhs join Tamils in London protest rally – The Sikh Times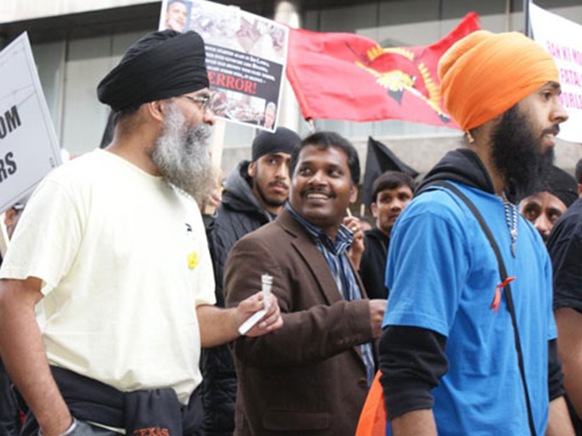 Over 100,000 people converged on the streets of London last weekend to remember the tens of thousands that perished in the Sri Lankan state's final onslaught against the Tamil civilians and to call for the release of 300,000 that remain under threat of death, disappearance, rape and torture in government-run internment camps.
Protesters, carrying black flags and adorned in dark attire, marched to rouse the UK and international community into action over the following three demands:
• Stop the disappearances, rapes and torture occurring daily in the internment camps and find all those who were unaccounted for.
• Free people from the camps immediately so that they can return to their normal lives.
• Bring the perpetrators of the genocide against the Tamils to justice.
The Tamil community disappointed and embittered by the failure of the UK and other international powers, to prevent the recent carnage despite constant and repeated warnings, pleaded that the international community must at least act now decisively to save the 'imprisoned' civilians in these camps, who remain in grave danger.
The march, organised by the British Tamils Forum (BTF), began at Park Lane at 2pm, proceeded through the busy areas of Piccadilly, Whitehall and Parliament Square before following the river Thames to Blackfriars.
Groups from non-Tamil communities including the Sikh Community participated in the procession showing solidarity with the Tamil cause. The Tamil community also supported the Sikhs at the Sikh rally for freedom on June 7th 2009 which took place in Hyde park London and stood shoulder to shoulder with the Sikh Community against the 1984 Genocide of Sikhs by the Indian Government.
A Memorandum calling for immediate registration of all detainees, unfettered access to international aid agencies to the camps, immediate release of these civilians and facilitation of the prosecution of Mahinda Rajapakse (President of Sri Lanka), Gotabaya Rajapakse (Defence Secretary) and Lt. Gen Sarath Fonseka (Chief of Sri Lankan Army) for War Crimes against Tamils was handed to Prime Minister Gordon Brown.
Demonstrators heard rousing speeches from politicians, including Tony Benn, Simon Hughes MP and Jeremy Corbyn MP, social activists and members of different sections of the Tamil community.
Notably, the crowds were also addressed by Tim Martin, the former aid worker and director of the charity Act Now, who fasted for 21 days in Parliament Square to highlight the plight of the Tamils and Ms Jan Jananayagam, an independent candidate from the Tamil community at the recent European election, who received an unprecedented, over 50,000 votes, with the support of the Sikh community.
(For updates you can share with your friends, follow TNN on Facebook, Twitter and Google+)