SLO attorney builds hope in Sri Lanka – San Luis Obispo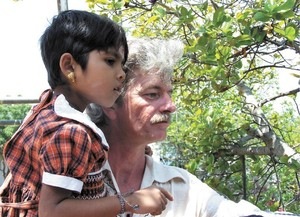 A San Luis Obispo attorney's work to help people in Sri Lanka who have been devastated by poverty, war and the tsunami is the focus of a new book.
"But for the Grace," written by author and journalist James A. Mitchell, was published this year by Mansion Field.
It tells the story of orphans and widowed elderly who have survived hardships to find refuge in the beachside center established eight years ago by local lawyer Eric Parkinson.
The Grace Care Center on Sri Lanka's east coast now serves more than 70 orphaned children and 30 elderly people in need of care.
Parkinson first met Mitchell in 2005 when the author visited Sri Lanka with a group of volunteers from Michigan helping with tsunami relief.
"I think Jim was moved by what he saw, and he has become a very strong advocate for what we're doing," Parkinson said.
Mitchell writes of Parkinson helping Sri Lankans imprisoned without cause, a young girl living at the center who learned to use AK-47 assault rifles during the civil war, and a 15-year-old girl named Ramiya who barely survived the tsunami.
Ramiya clung to a tree in the rush of water until she was knocked out and someone pulled her out.
Ramiya lost her grandmother in the tsunami; her other family members died from war, murder and illness.
"I went and saw the relatively recent damage caused by the tsunami — a devastating amount," Mitchell told The Tribune. "But there were so many other ruins of war, it was hard to tell the difference."
A civil war that lasted more than two decades ended in May when the Sri Lankan military defeated a separatist military organization called the Tamil Tigers.
The book describes how Parkinson met the Rev. Salvaduri Jeyanesan, a cleric from Sri Lanka, nearly a decade ago.
Jeyanesan told him about the long-standing civil war and widespread poverty in Sri Lanka.
Parkinson wanted to help and ended up buying seven acres in the port city of Trincomalee and converting an abandoned hotel into a care facility.
About 15 Sri Lankans now run the day-to-day care operation, with Jeyanesan managing the center along with several others that he runs.
Parkinson now serves as the president and chief executive officer of a U.S.-based nonprofit which administers the center from abroad.
"You can't save the world, but Parkinson could turn seven acres of property into a life-saving paradise for children for whom the future offered little or no hope," Mitchell said.
Nearly 3,000 copies of the book have been printed. It's available on www.amazon.com and through the publisher.
For more information about the Grace Care Center, visit www.you-shall-love.org.
(For updates you can share with your friends, follow TNN on Facebook, Twitter and Google+)