S Lanka 'accepts' Tamil aid ship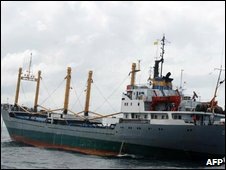 Indian authorities says Sri Lanka has agreed to accept a cargo of aid from Europe for Tamil civilians displaced in the final months of the civil war.
Earlier this month Sri Lankan officials turned away the aid vessel, which was sent by Tamil expatriate groups.
The vessel, the Captain Ali, will now be allowed to unload nearly 900 tonnes of food and medicine, thanks to high-level talks in Delhi.
The aid may be unloaded in Chennai in India and taken to Sri Lanka.
The vessel sent by a Wembley-based Tamil group, Mercy Mission, first set out from Ipswich in April, intending to go directly to the zone where fighting was then raging.
Earlier this month, Sri Lankan authorities turned away the ship and the government accused Mercy Mission of trying to help the Tamil Tiger rebels.
But the group says it is purely humanitarian and seeks to help more than a quarter of a million refugees currently interned in government-run camps in northern Sri Lanka.
The news that the vessel will after all be allowed to offload the relief came after talks in Delhi between India's foreign minister SM Krishna, and a high-level Sri Lankan delegation.
Mr Krishna said in a communique that he had asked the Sri Lankans, as a humanitarian gesture, to let the boat unload the aid and that the visitors had "kindly agreed to our suggestion".
He said the goods would be routed to Sri Lanka through the Indian Red Cross.
(For updates you can share with your friends, follow TNN on Facebook, Twitter and Google+)