TNA submits nomination list for local elections in North
Tamil National Alliance (TNA) Jaffna district parliamentarian, Mavai Senathirajah submitted Thursday the list of TNA nomination list of 29 candidates contesting Jaffna Municipal Council (JMC) election with Mudiyappu Remedius, a leading lawyer and a human rights activist as its principal candidate, under 'House' symbol of Ilangkaith Thamizh Arasuk Kadchi. The list includes one Muslim and four women candidates. Besides Mavai Senathirajah, TNA MPs Suresh Premachandran and Gajendrakumar Ponnampalam were also present at the event in Jaffna. Meanwhile, the TNA parliamentarians N. Sivasakthy Ananathan and S. Vino Noharathalingam fielded S.N.G Nathan as principal candidate for the list for Vavuniyaa Urban Council Wednesday.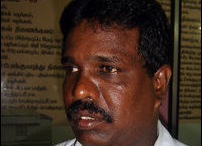 In Jaffna, three-party coalition consisting of EPRLF Varathar front, PLOTE and Tamil United Liberation Front (TULF) tendered its nomination list with Veerasingham Anandasangaree as its principal candidate.
Earlier, ruling UPFA, United National Party (UNP), Sri Lanka Muslim Congress (SLMC) and the independent group with Abimanasingham Manickasothy as its principal candidate have tendered their lists of nomination.
Another independent group submitted its list of nomination with Arumugam Sellathurai as its principal candidate to the election officer in Jaffna Secretariat Thursday.
The deadline for submitting nominations ended Thursday noon.
(For updates you can share with your friends, follow TNN on Facebook, Twitter and Google+)