Post-war Sri Lanka vote date set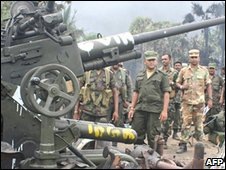 The first elections since the end of Sri Lanka's war will take place in two cities of the war-ravaged north on 8 August, the government has confirmed.
The municipal polls in Jaffna and Vavuniya will be their first local vote in more than a decade.
They are being billed as another step towards normal life, but there are still many security problems there.
In May Sri Lanka's army defeated Tamil Tiger rebels fighting for a separate homeland for the ethnic Tamil minority.
The north of Sri Lanka is dominated by the Tamil minority.
Jaffna was for years held by the Tamil Tiger rebels or cut off by them. Vavuniya is host to more than a quarter of a million Tamil refugees displaced by the war
None of these towns is a normal place. Now both are to hold local elections, although the Vavuniya camps are outside the voting area.
The Sinhalese-dominated government has a broad coalition, including some parties said to be attached to Tamil paramilitary groups which oppose the defeated Tigers.
Pitted against the government is the Tamil National Alliance (TNA), a pro-Tiger parliamentary group.
Fear in Jaffna
Its leader told the BBC he was confident they would do well. But the TNA says it feels the elections are happening too early, with more than half of Jaffna's Tamil and Muslim voters still displaced.
And Jaffna is still ridden with violence.
A candidate for mayor there, V Anandasankaree, has always opposed Tamil Tiger violence but he is also critical of the government, saying people are afraid to talk for fear of armed groups.
Jaffna's main Tamil-language newspaper said on Friday that it was publishing, under duress, a statement from a shadowy paramilitary group because its staff were threatened with violence if it did not.
As this unusual electoral test for the government in the Tamil heartland approaches, the stakes are going to get higher and so too will the tensions.
(For updates you can share with your friends, follow TNN on Facebook, Twitter and Google+)