Dark tales of Tamil ex-child soldiers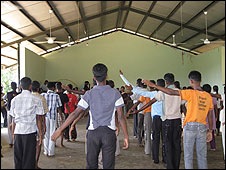 At a camp situated on top of a hill overlooking scenic rubber and coconut plantations in Sri Lanka, more than 100 former Tamil Tiger child soldiers are undergoing a year-long rehabilitation course.
Bala, who is now 17 years old, was one of the child soldiers who swelled the ranks of the feared Liberation Tigers of Tamil Eelam (LTTE).
"LTTE cadres took me away when I was 13. First I found it hard to carry the rifle. Then I got used to it. I went to the frontline and fired at the troops," he said.
He has not seen his parents since he joined the LTTE and hopes the International Committee of the Red Cross (ICRC) will help him find them.
'Scared'
The camp is one of three camps set up by the Sri Lankan government to rehabilitate nearly 300 child soldiers and integrate them into society.
The protective accommodation and rehabilitation centre in Ambepussa – located near the capital Colombo – provides an ideal setting for rejuvenating young minds.
Although the camp is surrounded by barbed wire and guarded by the army, the the inmates say the atmosphere inside is more like a hostel.
Most of the inmates of this camp are between 18 and 20. Many say the LTTE took them by force.
"They took me away from my home and gave me military training. When they told me to go to the frontline, I got scared and refused to go. They got angry and beat me so badly. Blood came out of my nose and mouth. Then I went to the battle fearing the punishment," said Kala, who is 17 but went into battle when she was 16.
She escaped with thousands of civilians during the third week of April.
Trying to escape from the ranks of the LTTE can be fatal. The group undertook suicide bombings with pride and encouraged its cadres to swallow cyanide rather than surrender.
"During my training a boy and a girl tried to escape. They were caught and shot before the others," another girl recalls.
During the last few weeks of war it seems the LTTE wanted everyone to fight the advancing Sri Lankan army. Even the children of serving LTTE cadres were not spared.
"My mother was with the Sea Tigers and my father served in the LTTE's Charles Antony Regiment. Still they took me for training.
"When my father saw me in the frontline, he asked me to run away and surrender. I did that. I came to know that my mother is in a detention centre. I hope my father is alive," says Sevlam.
"I saw a father trying to stop his son being taken away by the LTTE cadres. But they shot him down and took his son away," another young man says.
There are many such dark tales from these children who escaped the clutches of LTTE. For them, life in the camp seems good after having lived in stressful conditions in LTTE controlled areas.
Not everybody was forcibly recruited.
Suresh, in his early 20s, said he joined the LTTE voluntarily. "Our leader Prabhakaran is a good man. I still believe he is alive. I think the second rung of leaders who wanted to enjoy power and money were responsible for child recruitment and other excesses," he says.
Sinhala lessons
They live in a dormitory accommodation. The rooms have huge glass windows opening into a picturesque valley below. They are allowed to play games and watch television.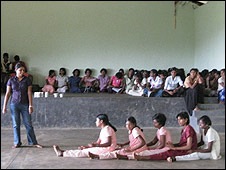 Compared to the male inmates, the women talked more about their families and showed signs of home sickness. But no one made any complaint about the facilities here.
"We suffered a lot. Every day there was heavy shelling. We had very little to eat," said Mary, another former child soldier.
"Here we get good food. We also learn new skills."
She says her parents and brothers were killed in an air raid and she has no relatives in Sri Lanka. "I want to be a teacher. After I get released from here, I will go to India where some of my relatives are living," she said.
Most of the child soldiers are school drop-outs. They are taught skills like plumbing, electrical works and cooking to make them employable.
They attend English and Sinhala classes. But so far they have not found a teacher to teach them in the language they can understand. For the moment, the few inmates who are well versed in Sinhala act as translators.
"Now that we have found a Tamil teacher in the immediate area, we will soon start Tamil reading and writing classes," says Dr Hiranthi Wijemanne, consultant to the commissioner of rehabilitation.
The former soldiers are allowed to write letters. Their relatives can send money to them. But they cannot go out.
The camp inmates looked relaxed while talking to reporters. They said they were not coached to talk to the media.
The Sri Lankan government says over 9,000 LTTE cadres have surrendered to the army and are kept in various camps. Yet they have not disclosed the names of the people who are in their custody.
(For updates you can share with your friends, follow TNN on Facebook, Twitter and Google+)