Sri Lanka accuses IMF of playing politics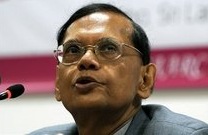 Sri Lanka on Friday accused the International Monetary Fund of politicizing financial aid following the fund's delay in considering a 1.9 billion dollar bailout for the war-ravaged economy.
"Never ever has the IMF taken political factors into account. Now, it seems for the first time they are doing that — indirectly," Sri Lanka?s trade minister G.L. Peiris told AFP in Washington ahead of talks with fund officials.
Sri Lanka tapped the IMF for aid in March in a bid to stave off its first balance of payment deficit in four years after the island's foreign currency reserves fell to around six weeks' worth of imports.
The loan has been put off due to political pressure from the United States, Britain and other Western nations over Colombo's handling of the final stages of the battle against Tamil separatists and charges that thousands of civilians were killed.
The Tamil Tigers were defeated last month.
Peiris said the IMF and Sri Lankan authorities had completed what he called "tactical discussions" over the 1.9 billion dollar standby facility as early as April but that the fund's board had still not met to consider the issue.
"So we think that it is wrong and apart from the fact that it is unfair because Sri Lanka has to be helped in this situation, not obstructed, it is a very unsound and dangerous precedent for the future," he warned.
"The IMF is now going to be embroiled in controversial political issues as part of the criteria governing their judgment in respect of particular transactions. That is very much our view," Peiris said.
The United States, the main shareholder in the IMF and whose approval is key to the release of the money, has welcomed the end to the fighting in Sri Lanka but urged Colombo to meet the needs of the displaced masses and engage with all communities to protect their rights.
Washington has also supported calls for a probe into alleged war crimes committed by Sri Lankan government troops.
The IMF said on May 15 that it was in "advanced stage" of discussions with the Sri Lankan authorities on the bailout prospects and that it looked forward to having a program brought to the board for approval "in the coming weeks."
Peiris remained confident however that the bailout funds "will come through" to Sri Lanka eventually.
Human rights organizations have reported that thousands of Tamils had been taken from the state-run camps for those displaced by fighting.
The United Nations also has often been at odds with the Sri Lankan government over Colombo's handling of the treatment of 300,000 people displaced by the fighting and detained in temporary shelters.
Peiris responded to allegations by some human rights campaigners who compared the plight of the displaced Tamil civilians in government camps to that under Nazi Germany.
(For updates you can share with your friends, follow TNN on Facebook, Twitter and Google+)