Trouble brewing for Sri Lanka tea farmers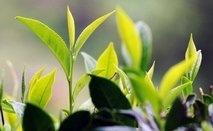 World tea prices have rocketed but along misty tea-growing mountain slopes in Sri Lanka's central hills, farmers are facing disaster.
Despite production shortfalls coupled with increased demand making the daily cuppa dearer, the men and women who toil the land have little reason to cheer, for they must uproot tea bushes desiccated by a severe drought.
Tea farmer N. K. Atapattu, 42, picked a crop of nearly 2,000 kilograms (4,409 pounds) of tea leaves from his small plot last year but the crop is sharply down in the first quarter of this year.
The tea harvest fell more than 50 percent in the first three months of the year on the highlands, according to official figures, and Atapattu and his fellow farmers are praying for better weather.
Nalini Aluthgama, 61, says her newly planted home plot at the village of Kotmale, some 170 kilometres (106 miles) east of Colombo by road, is devastated.
"I have just removed over 100 dead tea bushes," Aluthgama said while volunteers joined in to uproot the dead wood. "Most of my plants are about three years old and they don't give much of a crop."
The volunteers get a token two dollars a day for working on the tea plots.
Dhammika Manaweera, 42, the secretary of a local tea farming association, says all her 53-strong membership have suffered because of the drought.
The British charity Oxfam has been helping the local community to learn more about new techniques in tea growing and get the maximum from their inputs, but when it comes to weather, they are helpless.
"We have taken these farmers to experts and taught them good agricultural practices, but they don't have income security because of uncertain weather," said Oxfam's Tharanga Godallage.
This is an area where climate change is affecting an entire community uprooted 25 years ago to make way for a hydro-irrigation reservoir which inundated their traditional farmlands.
"We were re-settled here in 1984. We had a drought in 1988 but this time it is worse," Manaweera said. "We have started replacing the dead tea bushes, hoping for rain. We are getting some right now but if there is too much of rain, it will also ruin us."
Small-time farmers are a vital component in Sri Lanka's tea industry, the country's largest foreign exchange earning commodity, and the authorities are taking their plight seriously.
An hour's drive along a narrow road through hill slopes is Sri Lanka's Tea Research Institute, which is trying to develop new types of drought-resistant tea bushes.
"There was frost damage on the crop earlier this year," said TRI director Sarath Abeysinghe. "It was frosty early in the morning and very dry and hot during the day. It could be attributed to global climate change. We can't predict the weather anymore."
The TRI is using artificial pollination to develop cultivars from the tea bush, botanically known as Camellia sinensis, to withstand harsh weather, but coming up with a successful variety could take decades.
He said the distinctive aromatic flavour of tea usually produced in the mountainous regions during February and March had been ruined by the drought.
The teas, known as Dimbula, are hot sellers among buyers in Japan and Germany.
"There have been times when we were not able to get a quality season because of the erratic weather," he said. "But this year has been worse."
The chief plant breeder at the TRI, Kumudini Gunasekare, said drought resistant cultivars are being developed by her team to address the new issue of climate change.
"Earlier we were concentrating mainly on enhancing yields — drought was not an issue then — but we are now focusing on drought-tolerant varieties," Gunasekare said.
World tea prices have risen by about 35 percent in the past year and supermarket prices are set to rise another 10 percent in June, but small farmers in Sri Lanka who account for more than two thirds of the country's production have not benefited.
Sri Lanka earned a record 1.23 billion dollars from tea exports in 2008 thanks to the global commodity boom in the first half last year, but the party is now over.
(For updates you can share with your friends, follow TNN on Facebook, Twitter and Google+)