"Break the Silence" begins 1000 mile journey to Washington D.C.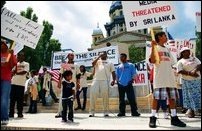 Three Tamil College students from Canada are on a 1000-mile walk from Chicago to Washington D.C. to "raise awareness with the general American population to what is happening in Sri Lanka," Illinois Times reported. More than 50 people assembled on the steps of the Capitol Friday, wearing tan, gray and blue T-shirts that carried their message: Break the Silence in Sri Lanka, the paper added.
"Despite the afternoon's stifling heat, these Sri Lankan natives and descendants showed up to rally behind Kannan Sreekantha, Vijay Sivaneswaran and Ramanan Thirukketheeswaranathan, three college students who are walking from Chicago to Washington, D.C., to call attention to the humanitarian crisis in Sri Lanka," the paper said.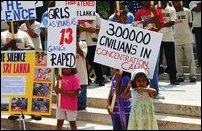 The crowd — with members young enough to ride in strollers and old enough to be grandfathers — chanted "Stop the genocide" and "We want justice." They wielded American flags and handmade signs that reported the number of deaths, rapes and detainees in the war-torn island country. They even hit the street, passing out fliers to drivers stopped at the intersection of Second and Capitol, according to Illinois Times.
From Springfield, the three men will travel east through Indianapolis; Cincinnati; Dayton, Ohio; Columbus, Ohio; Cambridge, Mass. Wheeling, W.V.; and Pittsburgh before reaching Washington, D.C., during the week of Aug. 9., the paper further said.
(For updates you can share with your friends, follow TNN on Facebook, Twitter and Google+)