Investigative Reporting from the United Nations
As Chile joined the International Criminal Court on June 29, Inner City Press asked the Minister Secretary General of the Presidency of Chile Jose Antonio Viera-Gallo if he thought the ICC should investigate this year's surge of civilian death and detentions in Sri Lanka. Viera-Gallo called it a situation of combat against a "nationalist" guerrilla force which should in the first instance be investigated by the government of Sri Lanka.
   "If the government cannot do it," he said, "it is easy — a member state should request it, or any person, to the prosecutor." Video here, from Minute 9:44.
But far from being "easy," the UN has not even been able to stop or comment on Sri Lanka disbanding its own investigation into deaths before this year, including of 17 Action Contre La Faim aid workers near Trincomalee.
   On June 26 Inner City Press asked the UN's top humanitarian John Holmes, who has previously spoken about the ACF killing, why he or his department OCHA had not commented on the disbanding of the investigation. Holmes said it hadn't been confirmed.
On June 29, Inner City Press asked Secretary General Ban Ki-moon's spokesperson Michele Montas about OCHA's disputed reports on the number and location of those being detained in northern Sri Lanka. "Those are not UN camps," Ms. Montas answered.Video here, from Minute 23:57.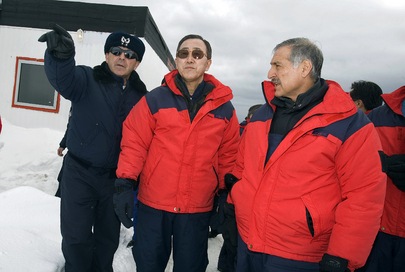 While Inner City Press had not called them UN camps, it gave rise to the question: what percentage of the funding of the camps comes through the UN?
Ms. Montas said she would get that percentage. Inner City Press asked, if it is over fifty percent, can they be viewed as UN camps? "That is a hypothetical question," Ms. Montas said. For now. Watch this site.
Footnotes: Chile's Viera-Gallo said that in Latin America there have been no serious crimes of late, and all governments have independent courts, oblivating the need for ICC inquiry. This was said just after the Honduras court decisions leading to the ouster of President Zelaya, and in the face of immunity offers in Colombia.
Inner City Press also asked Chile's Ambassador Heraldo Munoz about the three person investigation he will head up for the UN of the murder of Benazir Bhutto. Will the report of investigation be made public? He said he will answer later. But here's a question for now: the UN can put together a three person investigation for the murder of a political leader, but nothing for tens of thousands of civilians?
(For updates you can share with your friends, follow TNN on Facebook, Twitter and Google+)