Tamil healing touch for Lanka – The Telegraph, India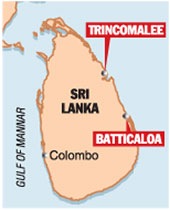 - India to fund Siddha faculty on erstwhile Tiger terrain
If symbolism can heal wounds, this one should rank top.
India plans to open a centre for the ancient Tamil medicine system, Siddha, in a Sri Lankan university whose growth was stunted by the civil war.
As New Delhi prepares to firm up ties with Colombo post-LTTE, it has decided to foot the entire bill for the establishment of the faculty, to be located on the Trincomalee campus of Eastern University. The Indian high commission in Colombo has already issued tenders for the required infrastructure.
Eastern University, whose main campus is in Chenkaladi, 12km north of Batticaloa, was founded in 1980 but saw its development interrupted by the civil war. The LTTE wielded considerable influence in the university's catchment area, which has a large Tamil population.
"Many Tamils live in the university's reach area and some of them practise Siddha medicine. So, the centre will be a help to them," an Indian foreign ministry source here said.
Siddha belongs to the trio of traditional Indian medicine systems, the others being Ayurveda and Unani. Siddha is often claimed to be the world's oldest medicine system. According to mythology, a group of saints called Siddhars learnt the system from Shiva and Parvathi and began practising it.
Its basic theory of the "three humours" is similar to the Ayurveda's. The big difference seems to be that while the Siddha affirms the predominance of vatham, pitham and kapham in childhood, adulthood and old age respectively, the Ayurveda reverses the order. Siddha medicines are herbal, inorganic or animal products.
The initial infrastructure plans for the Trincomalee centre include air-conditioners, photocopiers, fax machines, an SUV and a 50-seat bus. Once the faculty opens, teachers may be sent from India.
"As the system originated in India, we have considerable expertise in the field. We have institutions like the Central Council for Research in Ayurveda and Siddha, which comes under the ministry of health and family welfare," a government source here said.
The centre is expected to come up before the end of the year. The Trincomalee campus is now known for its courses in communication and business studies and applied science.
(For updates you can share with your friends, follow TNN on Facebook, Twitter and Google+)