Turbulent subcontinent – frontline
BHASKAR GHOSE
The conditions in India's neighbourhood cannot be ignored; it may well be that turmoil or crises across its borders will have a major effect on India.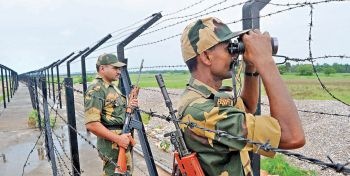 UNREST and turmoil have been common occurrences in the subcontinent for decades. Riots, tensions between countries and even wars have erupted from time to time. Yet, to the surprise of many across the world, the region has moved on, haltingly, perhaps, but moved on nevertheless. Poverty remains a scourge, as do illiteracy and disease; but efforts to counter them are at least becoming evident, however modest they seem to be.
The present times seem to be the most alarming of all. In Sri Lanka, while the Liberation Tigers of Tamil Eelam seems to have been eliminated as a threat to the integrity and peace of the country, what will follow is still uncertain; a huge amount needs to be done to re-settle the Tamil community in that country, as M.S. Swaminathan points out eloquently in an article in The Hindu (June 16). This requires determination and unwavering commitment from the Sri Lankan authorities in what they do not only to bring back peace and prosperity to the North but also to gain the trust and confidence of the Tamil community. This is a vitally important, historic moment in the fortunes of Sri Lanka; it stands on the cusp of true peace and integrity and a descent once again into chaotic violence and exploitation.
To the north of the subcontinent, in the Himalayas, Nepal is passing through a period of unprecedented turmoil and uncertainty. Will it collapse into ungovernable chaos or a state of unending violent infighting between groups, with no Central government worth the name? It is difficult to tell. But what one can see from the outside is that the country is fraught with tension, as different groups manoeuvre to get to positions of advantage.
Meanwhile, all plans and projects to improve the living conditions in that country – hard as they are at the best of times, given the difficult terrain and lack of road communication – have virtually ceased. This does not mean that things remain as they are; it means things get worse, as medical supplies dwindle and farmers cannot move their produce to markets and earn a living because the roads have been damaged.
In the east, unease prevails in Bangladesh. Going by what one reads and hears, discontent simmers and requires only a minor incident to erupt into chaos and turbulence. The terrible mutiny in the erstwhile Bangladesh Rifles (BDR) is still fresh in the minds of people and the government needs to tread carefully to maintain the fragile calm that appears, so far, to be holding.
It is convenient for several groups in Bangladesh to point to India as the evil genius behind all their troubles; as someone said with a degree of sarcasm tinged with sadness, if the H1N1 virus surfaces in fair numbers in that country it will, no doubt, be India's fault. For some inexplicable reason, they continue to harbour United Liberation Front of Asom leaders, while strenuously denying that they do so. It is very likely that the ULFA leaders are in hiding, and cannot be traced easily, but they are there; even the authorities in that country will admit that much. There are reasons to believe that some terror cells that plan and execute terror attacks in India are also there in Bangladesh.
And then there is Pakistan. The situation there is the most alarming of all. No one is really sure who is really calling the shots there. It is easy to say the Army is, but it may well be groups within the Army and not the Army as a whole. President Asif Ali Zardari appears to be becoming more and more irrelevant as time passes and militants appear to be able to strike at will, making the entire country unsafe. Some people talk of Pakistan "imploding", a word one finds difficult to understand. But that there are strains on its integrity as a country cannot be denied, and that becomes frightening given the fairly formidable nuclear arsenal the country has.
The Taliban may perhaps be contained or even driven out of certain areas in the northwestern region, but the ideology is something that may well be spreading, perhaps even into elements in the armed forces. This unsettling situation is not one that one has seen before in Pakistan; and it does not seem to be something that President Zardari has the competence to deal with, whatever he may say publicly.
There seems to be a crisis of leadership of a kind Pakistan has never had to live with before; in earlier times there was a clear leader, whether he was an elected Prime Minister or an Army General. For that time there was order, while the system, being inherently pernicious, ate away the supporting infrastructures, something that is now apparent as the crisis in leadership becomes more and more obvious. The abyss into which the country may fall is precisely what Shakespeare outlines in Troilus and Cressida:
Force should be right; – or rather, right and wrong,
Between whose endless jar justice resides,
Should lose their names, and so should justice too.
Then every thing includes itself in power,
Power into will, will into appetite;
And appetite, an universal wolf,
So doubly seconded with will and power,
Must make perforce an universal prey,
And last eat up himself. (Act 1; Scene 3.)
And, beset with these neighbours, there is India. There is restlessness, some turmoil and local resentments, but the fabric of the country still retains its integrity. The new government has laid out, and, going by what the Ministers are saying, will be laying out big plans to improve the conditions of the people and the country as a whole. These are brave words, and one can only hope that they will not remain empty words when we look back after five years. But the conditions in India's neighbourhood cannot be ignored; it may well be that turmoil or crises across its borders will have a major effect on India and what is being attempted here.
The primary challenge has, necessarily, to be the diplomatic challenge, the challenge to our relations with our neighbours. Simply because they may, if brushed aside or downplayed as minor problems to be sorted out in due course, undermine India's integrity and development plans, or even become agents that destabilise the country. Of course, we have to put the greatest emphasis on eradicating poverty, of bringing in basic reforms in the rural areas in particular. But to do this we must have the confidence that we do not keep having to watch our backs. The obvious signs are that India is poised to grow in every sphere of social and economic activity – how fast is another matter – and it is essential that none of this is jeopardised by outside factors.
In the past, we may have made the mistake of not giving these factors the importance they needed; now the imperatives in all our neighbouring countries cannot be wished away. We need to face up to them and do what we can to bring about a relatively calm neighbourhood, one in which we as a country can develop with firm bases so that what is achieved endures. One hopes the authorities have realised this and have begun to take suitable action to initiate strong, positive measures that make for peace and stability in the region.
(For updates you can share with your friends, follow TNN on Facebook, Twitter and Google+)