Axe to fall on APRC
 The All Party Representative Committee (APRC) set up in June, 2006 to work out proposals to solve ethnic conflict in Sri Lanka faces uncertain future after the Peace Secretariat (SCOPP) has been asked by the Presidential Secretariat to wind up its activities by the end of July. "APRC has been given one month notice to complete its deliberations and submit a final document," SCOPP Director General Professor Rajiva Wijesinghe told the media Tuesday.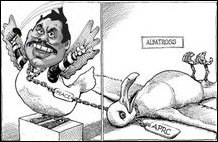 Other alternatives would be decided if the APRC fails to conclude its activities within the stipulated time, he added.
The Secretariat for Co-ordinating the Peace Process (SCOPP) has been the main force behind co-coordinating the APRC sessions providing translators and interpreters.
SCOPP has been directed by the Presidential Secretariat to wind up its activities by the end of July.
Political sources said SCOPP's demise certainly leaves the future of APRC tenuous. The axe is likely to fall on APRC's neck at the end of the month, sources added.
The farcical game of APRC was repeatedly exposed by political commentators in the past. Prof. Kumar David in an opinion column on February 2008 said: "The Interim Report is a sham for two reasons; the Committee set aside its pervious 18 months and 63 meetings of deliberations and trotted out the Presidential diktat pretending it was its own finding, and secondly the APRC is collaborating in a deception game since this interim palliative is all that the government will ever want out of these worthies; the government will sell this interim hogwash to India and the Co-Chairs."
(For updates you can share with your friends, follow TNN on Facebook, Twitter and Google+)