Death threats to Sri Lanka paper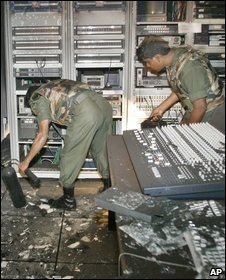 The boss of a Sri Lankan newspaper has told the BBC he is very worried about his staff after a shadowy group ordered them to quit their jobs or be killed.
The Tamil-language newspaper, Uthayan, is the biggest seller in the northern district of Jaffna.
The paper's Managing Director, E Saravanapavan, rushed from Colombo to Jaffna in the north after a hitherto unknown group made the threats.
The Sri Lankan civil war ended in May with the defeat of Tamil Tiger rebels.
The threats against Uthayan came from a group called the Tamil Alliance to Protect the Country.
It told all the paper's employees and all newsagents selling the paper to resign by 30 June or "face capital punishment".
In its statement, delivered by men in helmets on a motorbike, it accused Uthayan of being a "mouthpiece for terrorists" and of aiming to destroy peace.
The security forces have laid on extra protection but Mr Saravanapavan said he was especially worried about the ordinary workers and newsagents who, he said, should be able to operate without fear.
He said it was incumbent on the government to ensure no one was harmed.
(For updates you can share with your friends, follow TNN on Facebook, Twitter and Google+)