Nirupama Menon Rao succeeds Shiv Shankar Menon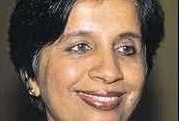 Nirupama Rao, nee Menon, hailing from Kerala is named as India's Foreign Secretary Tuesday, to succeed Shiv Shankar Menon who will be retiring on July 31. The 58-year-old diplomat is currently serving in China as India's ambassador and before that she was High Commissioner of India in Sri Lanka, between 2004 and 2006.
Besides notable previous postings in Moscow, Washington, South Africa and Peru, she also served earlier in Colombo as First Secretary in the Indian High Commission in the 1980s.
During her tenure as High Commissioner in Colombo, SLFP minister Anura Bandaranayake in a parliamentary speech accused her of interfering in the internal affairs of Sri Lanka. However, president Mahinda Rajapaksa later conveyed his regrets over the minister's remarks.
On the new Foreign Secretary's appointment, The Hindu reported that at a time when the Ministry of External Affairs is headed by new and relatively inexperienced ministers, the incoming Foreign Secretary will have to interact with a Prime Minister's Office that is playing an even larger role in strategic and diplomatic affairs than it did a decade ago.
The current Foreign Minister SM Krishna was a successful Chief Minister of Karnataka and the ministers of state, Dr Shashi Tharoor, a former UN Under Secretary General, and Smt. Preneet Kaur, wife of a former Chief Minister, come from Kerala and Punjab respectively.
Daughter of an Indian army officer and a postgraduate in English literature, Nirupama Menon Rao is married to Sudhakar Rao who is currently the Chief Secretary of the Karnataka State.
As a poet and author she is credited with a publication, Rain Rising Poems (2004).
"We watch a sensitive poet grapple with her physical universe as also with ancestry and roots and the search for roots", says a review to her book.
TamilNet: 01.07.09 Nirupama Menon Rao succeeds Shiv Shankar Menon
(For updates you can share with your friends, follow TNN on Facebook, Twitter and Google+)