Tamil govt will be formed in Lanka: MK – News Today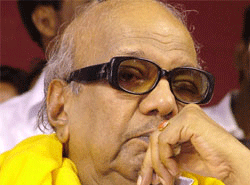 Chief Minister M Karunanidhi on Wednesday expressed hope that a government led by Tamils would be formed soon in Sri Lanka. He also said that the ailing Tamils in the island nation could at present get respite only through the Mahinda Rajapakse government.
Replying to a special call attention motion in the Assembly over the plight of Tamils in the neighbouring country, he said the conflict in Lanka between Sinhalese and Tamils was taking place for more than five decades now.
'I am the one who is aware of this problem since its beginning. I had even penned it in a detail way in my novel Pandaraka Vannian,' the Chief Minister said and added: 'Both the Union and Tamilnadu governments are keen to help the Lankan Tamils.
A Lankan delegation met me recently and asked to send a committee to take stock of the situation there. I told them that the Centre should give clearance to take further decision and a formal invite should be extended from their end.'
Stating that former Chief Minister C N Annadurai had to give up the 'Dravida Nadu' demand due to various reasons, Karunanidhi said there was nothing wrong in changing stands for the welfare of the people.
'The Centre is now respecting State governments thanks to the pressure from our side on various occasions. Likewise, a Lankan government respecting the sentiments of Tamils should be formed,' he said.
The Chief Minister further said: 'Like how Barack Obama from the oppressed community became the President of the United States, let us hope that a government led by Tamils would be formed soon in Lanka.'
(For updates you can share with your friends, follow TNN on Facebook, Twitter and Google+)