Sri Lanka turning Manik Farm camp into permanent 'city' – report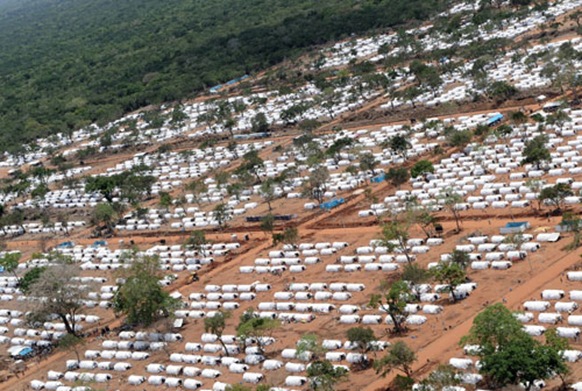 Despite assuring the international community that most Tamils interned in militarized detention camps would be resettled by the end 2009, the Sri Lankan government is turning Manik Farm, the largest barbed-wire ringed site, into a permanent detention centre, The Times newspaper reported Friday. Tamil refugees are being used as forced labour, UN sources told the paper. Aid workers say the site was fast becoming Sri Lanka's second biggest city after the capital, Colombo. Whilst Sri Lanka blames mines for preventing resettlement, foreign demining agencies say that they have been given access so far to only about 30 sq km of the former Vanni conflict zone.
Aid workers have told The Times that permanent buildings are being erected at the Manik Farm site where the UN says that 230,000 of the refugees are being held.
Refugees involved in the building had asked to be paid but the Sri Lankan government refused, the UN sources told The Times.
Aid workers said that they were able to do humanitarian work in four of six zones at Manik Farm but were barred from two others, including the mysteriously named Zone Zero.
"We're not allowed to work in these areas," said Rajinda Jayasinghe, the head of Relief International in Sri Lanka. "But you can see from the outside proper brick-walled buildings going up."
The Sri Lankan overnment originally proposed holding the Tamil refugees in "welfare villages" for up to three years to check that they were not Tigers, and to clear their villages of mines.
However, after donor nations protested and Tamil MPs and activists compared the barbed wire enclosures to concentration camps, the government promised to resettle 80 per cent of the refugees by the end of this year.
Aid workers said that the new structures violated UN guidelines on temporary refugee shelters, and suggested that the government meant to hold refugees for much longer, the paper reported.
Aid groups' concerns over the buildings grew last month when the Government proposed giving people in each tent two bags of cement to build their own floors, a leaked document obtained by The Times shows.
At a meeting on June 15, a group of NGOs providing shelter in the camps expressed "strong reservations" about the plans, according to the document.
They said that the proposed concrete flooring was too expensive, provided no protection against flooding and violated UN guidelines on temporary refugee shelters.
"The use of concrete flooring is inconsistent with temporary structures and is one of the recognised criteria of a semi-permanent structure," the document said. "The use of concrete or screed flooring suggests a commitment by the SLA [Sri Lankan Army] to increased longevity of the IDP sites."
While the government said it had already resettled 600 families and the army had cleared 100,000 landmines, UN officials say that those resettled are mostly the elderly and children.
TamilNet: 03.07.09 Sri Lanka turning Manik Farm camp into permanent 'city' – report
(For updates you can share with your friends, follow TNN on Facebook, Twitter and Google+)