IPKF failed in mission as it spurned army help: General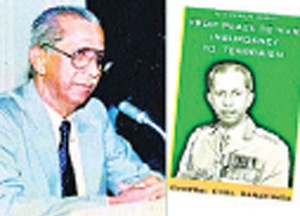 General Cyril Ranatunga, chief of the Joint Operations Command (JOC) and Defence Secretary when the Indian Peace Keeping Force (IPKF) was in Sri Lanka, says that one of the main reasons why the IPKF did not succeed in its mission to restore peace in the island was that it was over confident and unwilling to accept the assistance of the more experienced Sri Lankan army.
"The Indians thought they knew everything. Therefore they did not want any help from the Sri Lankan army. They didn't want to listen to our views or consult us on our ground knowledge and intelligence," Ranatunga writes in his just published memoirs entitled: 'From Peace to War: Insurgency to Terrorism.'
"When the first armoured ranks of the Indians were used in the north, some machines got bogged down because they did not know the ground realities. They had no modern maps of Sri Lanka. Thus, on a number of occasions, the LTTE changed the name boards of the roads and the Indian Army ended up going in the wrong direction," Ranatunga recalls.
OPPOSED GIVING ARMS TO LTTE TO FIGHT IPKF: Though he resolutely opposed the induction of the IPKF as it was an invasion of Sri Lanka's sovereignty, Ranatunga was appalled when President Premadasa decided to give arms to the LTTE to fight the IPKF and the IPKF-sponsored Tamil National Army (TNA).
"How can you give weapons to the LTTE? What about the IPKF who are engaged in wiping out the LTTE? What about India?" he asked Premadasa. The President replied: "I will sort it out. They (LTTE) have assured me they will never fight us with these weapons. I am giving them these arms to fight the TNA which the IPKF is creating."
Ranatunga retorted: "You are giving weapons to terrorists. My life has been spent fighting with them. Please stop it." Premadasa was annoyed and said: "I can't change it now." Ranatunga calmed down but said firmly: "It is my duty to tell you. It is your prerogative to take a decision."
WITHDRAWAL OF IPKF A MISTAKE: Gen. Ranatunga also felt that President Premadasa had made a "mistake" by ordering the withdrawal of the IPKF. The Indians left in March 1990, without finishing their task.
(For updates you can share with your friends, follow TNN on Facebook, Twitter and Google+)