Sri Lanka's need for IMF wanes: Central Bank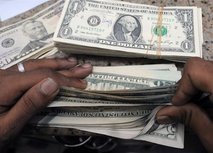 Sri Lanka's central bank chief said Saturday that the island could live without a major IMF bailout that had been delayed by the final stages of the government's fight with Tamil Tiger rebels.
The government had requested the 1.9-billion-dollar loan in March to help stave off its first balance of payments deficit in four years after foreign currency reserves fell to around six weeks' worth of imports.
The loan was delayed under political pressure from the United States, Britain and other countries who felt the government was not doing enough to avoid civilian casualties as it closed in on the remnants of the once-powerful Tamil Tiger army.
Central Bank of Sri Lanka Governor Nivard Cabraal said the final defeat of the Tigers had helped alleviate the island's balance of payments concerns.
"Things are looking good after the war. The urgency for an IMF loan is not there anymore," Cabraal told AFP.
"We have over 1.6 billion dollars in reserves, enough to pay for over two months of imports. And the figures are steadily climbing," Cabraal said.
Foreign reserves, which fell by more than two thirds when the central bank sold dollars to defend the local rupee last year, had climbed to 1.3 billion dollars by the end of April, according to central bank figures.
Cabraal said inflows had come from higher remittances, donor funds and foreign investors buying rupee-denominated treasury bills and bonds. The bank has also raised cash by selling dollar debt.
But he said some investors would still be more comfortable with an IMF loan.
"If the IMF funds come, it will give us a comfortable buffer stock. I hope we get it. But we are otherwise in a comfortable position right now," he said.
The IMF on Thursday said Sri Lanka's loan was still pending before the executive board which has yet to set a date to consider the application.
"Discussions are continuing," IMF spokesperson Caroline Atkinson told reporters in Washington, adding: "We don't have a date for an executive board meeting at present on Sri Lanka."
(For updates you can share with your friends, follow TNN on Facebook, Twitter and Google+)